Fri, Mar 20, 2020
*POSTPONED* NEW DATE TBD - Rob Cheatham & Co / Moby & The Dicks: Split Release Show
with Dropping Julia
About Rob Cheatham Music:
Rob Cheatham a singer/ songwriter from Charlottesville, VA whose had the privilege of playing in hard working bands for many years; such as, The Nice Jenkins, Gunchux, and The Borrowed Beams of Light.

Born and raised in Richmond, VA. In 2002 his desire to write and produce music finally became a reality when he left RVA for Philadelphia. From there, he moved to Charlottesville where he co-founded the The Nice Jenkins, an indie pop band with cacophonous sound and energy. He quickly found myself entrenched in the Charlottesville music scene, where he remains an active and vocal leader.

Rob's music reflects the character of the places where he's lived and grown. His previous album, "Villains and Ghosts" showed Rob solidifying an Americana/Country sound which paints detailed portraits of his American life.
​
Rob Cheatham and Co. features Amy Bowden on Violin + Vocals, Mike Doyle on Drums, Travis Marshall on Bass, and David French on Electric Guitar + Vocals. Additional regular contributions come from Justin Paciocco and Nate Bolling on Keys, Adam Long on Electric Guitar, Jordan Brunk on Bass, Ray Szwabowski on Drums, Mark Cosgrove on Mandolin and Jason Ankney on Violin + Vocals.
​
This March show celebrates Rob's latest release, "Sons & Daughters"

About Moby & The Dicks:
Moby & the Dicks is a rock n' roll band from Charlottesville Virginia led by charismatic frontman, Moby Brown. Moby Brown was born in Boise and raised in Crozet, Virginia and has been singing and writing original soul and rock music in Central Virginia since 2002. Drawing on influences and inspiration from Otis Redding, Chris Robinson, and Joe Cocker, Moby and his rhythm section are a unique and dynamic performing act. While initially gigging heavily in central Virginia, the band released its first EP, "Lust and Consequence." In the Fall of 2012. Moby & the Dicks released their first full-length recording, "Abandon All Hope" on May 30, 2014. In the early Spring of 2020, Moby & the Dicks releases a new EP with five new songs entitled, "Lady of the Wood." While the band gigs infrequently, the creation of new material has continued to inspire and push the band forward in new musical directions.

About Dropping Julia:
Dropping Julia is a funk rock ~ neo-soul band from Charlottesville, Virginia. Uniquely modern yet longingly retro ~ one part mellow and dreamy, one part upbeat and funky, lushly layered with authenticity and soul.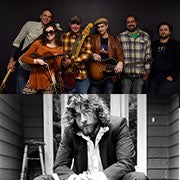 Doors

6:00pm

Show

8:00 PM

Price

$7 Advance

$10 Day of Show
SHOWINGS
This event has already occurred.