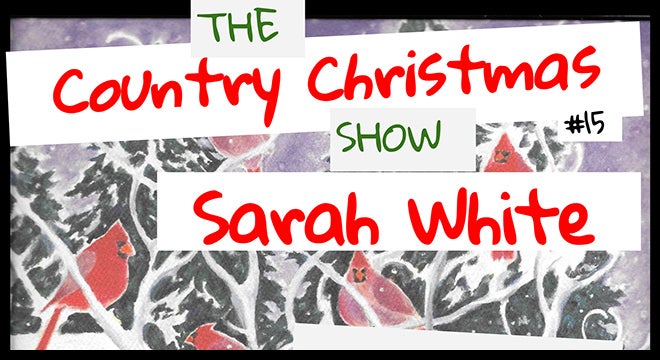 Sarah White's Country Christmas
Sat, Dec 22, 2018
Sarah White's Country Christmas
with Acorn Sisters, Jim Waive & More!
HEY YOU GUYS!!! It's the 15th Annual Country Christmas Show!!!
Virginia Singer-Songwriter and Country Christmas Promoter Sarah White brings together a sleigh full of great musicians, classic country songs, and a big dose of Home-Sweet-Home to Charlottesville SATURDAY 12/22 at the Southern.
If you've been to the show, you know why you go. The lights. The trees. The songs. The twinkle. The melancholy? The cookies! Whatever it is, this magical show has 15 years of legs and people count on it like they count on Santa coming down the chimley.
"I'm obsessed with Christmas and everything sparkling," White told the Daily Progress. "Every year, I'm driving around and picking up tons and tons of new Christmas ornaments for the show." Her childhood obsession goes way back. Growing up on a failed Christmas tree farm in hillbilly West Virginia has always left her wanting more, more, more! That, coupled with my first Dolly Parton album at age 5, sealed my fate, she says. Dolly put it best: "Less is not more; more is more."
Christmas staples like the Acorn Sisters and Jim Waive will perform. And White fronts an all-star band including Charlie Bell on dobro/pedal, Jake Hopping on bass, Anna Matijasic Hennessey on fiddle, Brennan Gilmore on high-lonesome and more, more, more to come!
About Sarah White:
Homegrown folk music with a dash of country twang and just enough rock & roll bite. - Rolling Stone

Sarah White's musical style is as familiar as it is hard to define - not quite country, not quite rock, not quite folk - but a little bit like all of the above. A chameleon-like performer with ever changing line-ups over the last decade, White has grown into a talented songwriter with a sizable body of poignant, catchy, and moving songs. Backed by a full band including pedal steel, keyboards, and guitars, White closes 2018 with a new album (High Flyer, released August 2018) and a bigger, brighter and accomplished sound.

White grew up on a Christmas tree farm in West Virginia exposed to a world of music via her folks' extensive record collection, ubiquitous music festivals, local music jams, and a songwriting father. Her early albums on the Jagjaguwar label post-University speak to a wide range of influences and a tendency for experiential learning. Deemed back then "a diamond in the rough," White says that High Flyer is the gem she's been working toward all these years. As she says, "This one feels like the one I've always wanted to make."

"The album [High Flyer] builds upon what early fans loved best about White, including introspective lyrics and delicately crafted arrangements." - RollingStone

"The connection between White and Matthews is as cosmic as the duet [͚'Sweetheart͛'] suggests." - Billboard

Sarah performs solo and with the band and wields a well-worn Jumbo Gibson acoustic. She has opened for Merle Haggard, Justin Townes Earle, Earl Scruggs, Will Oldham, Dave Matthews Band Caravan and was once named Best Songwriter in her hometown of Charlottesville, the town invented by Thomas Jefferson.

"All of the tracks on High Flyer are classic Sarah White: They're smart, earthy, honest songs, full of heartbreak that cuts sharp through glittering wit, all a reminder that White is, as she always has been, the coolest gal around." - C-Ville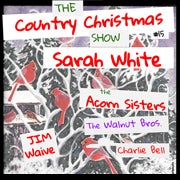 Doors

6:00 PM

Show

8:00 PM

Price

$15 General Admission