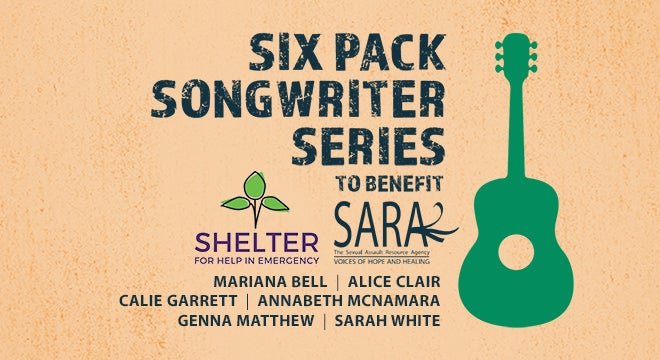 Six Pack Songwriter Series to Benefit SARA and SHE
Sun, Mar 18, 2018
Six Pack Songwriter Series to Benefit SARA and SHE
with Mariana Bell, Alice Clair, Calie Garrett, Annabeth McNamara, Genna Matthew & Sarah White
Founded in February 2012, The Six Pack Songwriter Series' Mission is simple: To provide a broader audience to songwriters who call Virginia home.

Over the last three years, the show has relocated from Lovingtston to Charlottesville and performed to thousands. With it's home base at The Southern Cafe & Music Hall, The "Six Pack" continues it's work on March 18 with a combination of new and familiar faces:
Mariana Bell
Alice Clair
Calie Garrett
Annabeth McNamara
Genna Matthew
& Sarah White
About SARA (Sexual Assault Resource Agency):
The mission of the Sexual Assault Resource Agency (SARA) is to eliminate sexual violence and its impact by providing education, advocacy and support to men, women and children. Our vision is a community free from sexual violence.
We are located in Charlottesville, Virginia, and serve residents of Charlottesville, Albemarle, Nelson, Louisa, Fluvanna and Greene. We serve anyone who has personally experienced, or cares for someone who has experienced any kind of sexual violence, including rape, sexual assault, sexual abuse, sexual molestation, incest, sex trafficking, stalking, sexual harassment or unwanted touching.
Services are provided free to all survivors, regardless of race, gender, sexual orientation, gender expression or identity, age, economic status, education, parenthood, physical and/or mental abilities, national origin, immigration/documentation status or any other status. Prevention Services are provided on a sliding scale, and depending on availability.
We reach approximately 550 survivors and 6,000-8,000 students each year, as well as hundreds more through our community outreach programs.
SARA is fully accredited through the Virginia Sexual and Domestic Violence Action Alliance, the only such sexual assault crisis agency in this service area, and has been providing services to the community for over 40 years.
About SHE (Shelter For Help In Emergeny):
The Shelter for Help in Emergency works to support and empower victims of domestic violence through a combination of residential, community-based and outreach services.
With 16 positions for a staff of 22 full and part-time employees, and the benefit of over 8,000 volunteer hours per year, the Shelter for Help in Emergency provides services to over 2,000 individuals annually.
Mission Statement: Working to end domestic violence in our community
Philosophy Statement: The Shelter for Help in Emergency is committed to providing a safe, supportive, confidential, and respectful environment in which survivors of domestic violence are empowered with the knowledge of personal and community resources as well as the skills needed to make informed decisions for themselves and their families.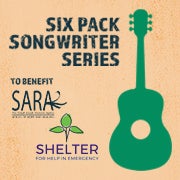 Doors

5:30 PM

Show

7:30 PM

Price

GA Seated with Standing Room

$10 Advance

$12 Day of Show
SHOWINGS
This event has already occurred.