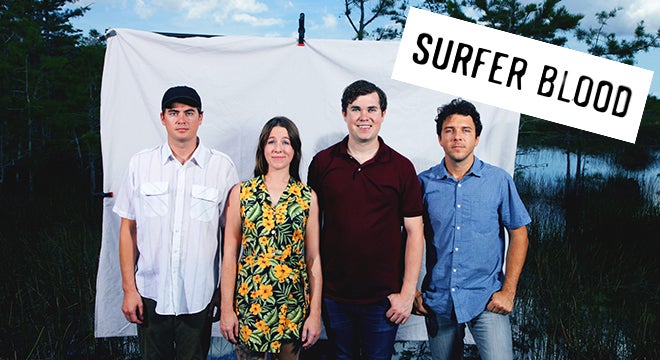 Sat, Apr 22, 2017
Surfer Blood
with Paperhaus
SURFER BLOOD's fourth album, Snowdonia, (in stores Feb 3, 2017) is a return to their DIYrecording roots, and at the same time, an ambitious step forward, musically and lyrically. Along with plenty of Surfer Blood's signature catchy pop hooks, the band also concocted several epic and more complex songs with enormous attention to sonic detail. John Paul Pitts wrote and mixed the album alone, for the first time since their debut Astro Coast. The immediacy is intoxicating and the results are fantastic. Surfer Blood get better and better with each album, and we're betting that they'll be making great records for many years to come.
Surfer Blood are a magnificent indie rock band from West Palm Beach, Florida that formed when guitarist/vocalist John Paul Pitts and drummer Tyler Schwarz started playing better-than-great musical notes together in Dreyfoos High School. New members Mikey McCleary and Lindsey Mills also attended the same high school.
Surfer Blood began recording and touring immediately behind their infectious debut, Astro Coast (2010) and quickly took over almost the entire world (except for the deepest realms of the ocean and really, really cold places). The group followed suit with the Tarot Classics EP (2011), Pythons (2013) and 1000 Palms (2015). Surfer Blood have performed in 5 continents, toured with heroes like The Pixies and Guided By Voices, played on TV, at Coachella and giant festivals throughout the world, while also occasionally plugging in their amps at all-ages house parties. Surfer Blood are the cleanest and nicest band in existence.
About Paperhaus:
DC music scene and national DIY mainstays Paperhaus are back with new material as a follow-up to last year's self-titled debut full-length. While tirelessly booking touring bands and up-and-coming DC acts in their Petworth artist house/rehearsal/show space/recording studio and other independent spaces across DC, the band still found time to tour around the country from 2012-2015. The band has built up a significant regional following since their self-titled debut album, receiving buzz from NPR, USA Today, Washington Post, Mother Jones, Rolling Stone and Stereogum. Now they are focused in their home studio with a new album in queue and a new sound.

New single "Silent Speaking" is a bit of a transition song. It hints at the more dance/groove-focused direction developing towards LP2; equally informed by Fela Kuti, the more electronic side of contemporary progressive rock groups like Deerhunter and Radiohead, and the band whose song they take their namesake from, CAN. With "Silent Speaking," the group shows they've taken big strides in terms of songwriting, performance, and production, but there remains a natural "sweaty basement" tinge that carries over from their first record.
Paperhaus brought on producer Brian McTear to man the boards behind the track. Brian has worked with groups such as The War on Drugs, Kurt Vile, The National, Sharon Van Etten as well as DC's own Deleted Scenes. His signature of high fidelity recording based on live performance-based honesty is readily apparent on "Silent Speaking." Coincidentally, Brian's views on community (as evidence by a recent TED talk he delivered) and his manifestation of that commitment comes through via his Shaking Through sessions; his work and attitude perfectly fits the philosophy of Paperhaus and the DIY community that surrounds the band.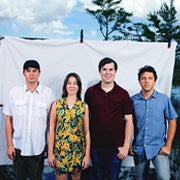 Doors

7:00 PM

Show

9:00 PM

Price

GA Standing Room

$13 Advance

$15 Day of Show
SHOWINGS
This event has already occurred.