Thu, Aug 16, 2018
Sw33t T00th
with Guts Club and Gull
About Sw33t T00th:
Charlottesville 4-piece Sw33t T00th creates dreamy popscapes from a bed of warm analog synthesizers, 4-part vocal harmonies, tube amps, and drum heads. More often than not, Sw33t T00th's four members—Maguire, Naylor, Davis and drummer Greg Sloan, who have a broad influence of musical genres among them—ask themselves, "What sound do we need to get this feeling?" as they compose and write together, exploring the capabilities of their instruments. Songs will grow out of something Maguire's already written, or a Naylor synth riff, or a Sloan vocal melody and lyric or even a textural bass part from Davis. Sw33t T00th is about creating a vibe, says Maguire, "a magic feeling that's hard to come by," and thus the band's songs aren't bound by traditional arrangements. The songs often devolve into an emotional state rather than a narrative, says bass synth player Kevin Davis, and that's fine by the band—we're not talking a three-minute verse-chorus-verse-chorus-bridge-verse-chorus thing.
The resulting music is kind of dream pop, kind of prog, kind of rock, kind of folk, kind of experimental, kind of psychedelic and kind of electronic. The songs are somewhat lengthy—six or seven minutes long—with texture and atmosphere that's neither jammy nor gratuitous. Sw33t T00th asks listeners to exist in the space of the song, says Naylor.
About Guts Club:
Performing under the Guts Club moniker, musician and visual artist Lindsey Baker self-released her solo debut album, The Arm Wrestling Tournament, in February 2015, resulting in favorable feedback from press. In a review from Tiny Mix Tapes they said "Baker carries a guitar the way Robert Frost carried a hatchet: as a tool through which tension and rage can be released," and Paste said "The Brooklyn singer and songwriter behind Guts Club sings with piercing emotional intensity."
She's since moved from the northeast to New Orleans, where she recorded her second album Shit Bug, released on Moderate Fidelity Records on July 1, 2016. Baker brought along a band for Shit Bug and has since preformed with a rotating cast of musicians and friends.
While The Arm Wrestling Tournament dealt mostly with dark, obsessive love, the themes of Shit Bug further define Baker's ongoing narrative about coming to terms with otherness and alienation via her own brand of cosmic gloom.
On March 2, 2018 RIP Records released a new single, "Mustard Tears" as part of their RIP Introduces series. The track is the first to be heard from Guts Club's fully electric album, Trench Foot, which will be self-released on July 6, 2018. Trench Foot marks a thoughtful deviation from the characteristically shaky Guts Club to one more deliberate in composition and voice. Upon going electric, Baker developed a new command and agency over her songwriting unheard in previous recordings. The album maintains Baker's violent and dark undertones, this time with increasingly pointed observations on regret, privilege, and retribution.
About Gull:
Nathaniel Rappole's solo project Gull is best described as a drum; a living, breathing, squawking drum that cries out assorted music of creatures past and delivers it from a single unique perspective; a communal music broadcast of blood and bile left as an offering on the altar of sound. Gull has been active for more than a decade and has recorded a 7", 2 EP's and 2 full length albums and has spent the better part of the past 5 years touring vigorously ~ playing venues, on the streets and in the wilds of North and Central America, Kenya and Europe. Gull has toured in support of White Rabbits, Tres Mts and RNDM and has shared the bar arena with the likes of Silver Apples, Girl Talk, Deerhoof, Adrian Belew, Panda Bear and Melt Banana...

In 2012 Gull was featured in a movie about music in Mexico called Hecho en Mexico (Netflix), and in 2014 he produced, hosted and performed in a documentary on street/public music and culture in Kenya (Street Muse: Kenya), which premiered at The Fowler Museum at UCLA in Los Angeles, CA on August 21st, 2014.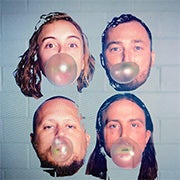 Doors

6:30 PM

Show

8:30 PM

Price

$7 General Admission
SHOWINGS
This event has already occurred.