Sat, Aug 5, 2017
Tennis
with Airpark
About Tennis:
Tennis is comprised of couple Alaina Moore and Patrick Riley. The Denver-based duo began writing music together as a way to document their time living at sea on a small forty year old sailboat. The result was their first release, Cape Dory which saw them quickly become one of the most alluring and blogged about bands of the new decade. Moore and Riley followed Cape Dory with Young and Old, which The New Yorker described as "winsome as it is ebullient," and debuted #1 on Billboard's Heatseeker Chart and #1 on CMJ Top 200, where it remained for three straight weeks. The album also debuted on Soundscan's "New Artist Chart" at #1 remaining there for nine consecutive weeks. In 2013 the Small Sound EP debuted on Communion Music, followed by thousands of miles on the road, and a support tour with sister super-group, Haim. In 2014, the duo released Ritual In Repeat. Produced by Patrick Carney (The Black Keys), Jim Eno (Spoon) and Richard Swift (The Shins), this full length showcases a band in full control of their sound and craft. With well over 12 million streams and multiple television spots, the album has been received with open arms by loyal fans as well as new. Now they are on tour again precipitating the release of new material.
About Airpark:
Airpark makes deconstructed pop music.

Inspired by minimalism, melody and groove-heavy percussion, bandmates Michael Ford, Jr. and Ben Ford launched the group in 2016, one year after their previous project, The Apache Relay, quietly called it quits. The Apache Relay had been a large band, staffed with six members and armed with a thick, wall-of-sound approach. With Airpark, the Ford brothers sharpen their focus and scale back their arrangements, focusing on songs that pack a punch with bold, basic ingre-dients.

Raised in New Orleans, the Fords grew up surrounded by music, from the Crescent City's jazz to the soul of Irma Thomas and Allen Touissant. Later while living in Nashville, the two rekindled the music connection they'd kick-started back home, finding popularity — first in Tennessee, then across the country - as The Apache Relay performed alongside the likes of Jenny Lewis, Mumford & Sons and more. It was a whirlwind period that found the brothers constantly touring, forever moving and steadily swelling their sound to new heights. Michael and Ben move at a deliberately different speed with Airpark, thus finding new musical territory to explore.

Taking their cues from a wide set of influences — the rhythmic world music of Tinariwen and Lijadu Sisters; the production of Air, Damon Albarn, and Fiona Apple's The Idler Wheel; the ten-or vocal range of Big Star's Alex Chilton and Fleetwood Mac's Lindsey Buckingham, with the occasional pop crooner delivery of Harry Nilsson — the two unveil their new direction with Air-park's debut EP, Early Works, Volume 1. On opening track "All The Time," Michael spins the autobiographical story of a musician who's starting over and swinging for the fences, finally coming to terms with his own ambition. "Now I know I need ittobe ocean-sized," he sings, backed by propulsive percussion, syncopated electric guitar and his brother's harmonies. Else-where, the two ride an abstract, atmospheric groove on "Even If," get nostalgic with "Black Light Blue," and reset the clock during the New Year's Eve breakup anthem "Plenty to Pine For."

It's a sound that targets the feet and the head. It's pop music for thinkers. It's dance music for wallflowers. And with the brothers pulling triple-duty as songwriters, multi-instrumentalists and co-producers, Early Works, Volume 1 — whose March 3, 2017 release arrives courtesy of the Fords' own label, Eugenia Hall Records — is their most forward-thinking project to date, pairing the band's growing ambition with musical chops to match.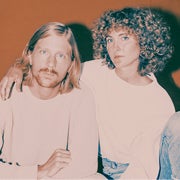 SHOWINGS
This event has already occurred.