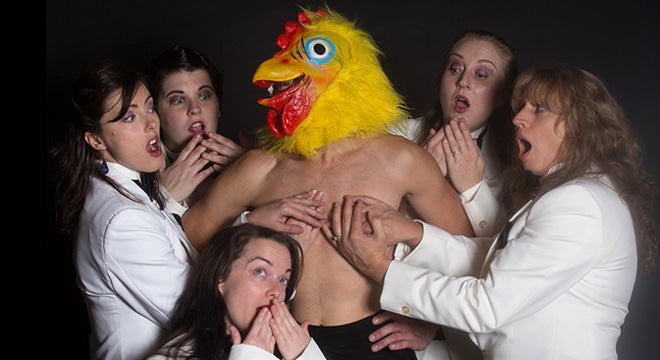 Fri, Apr 19, 2019
The Falsies
with Ruckus the Bulldog
About The Falsies:
Dear reader, this is Danny Shea (and for real this time.) I'm writing to clear up some gross inaccuracies in The Falsies' last press release. In advance of the second Falsies show, Lance Brenner had the unconscionable gall to write an intentionally misleading narrative as myself which included depictions of me engaging in sexual acts in exchange for booking consideration for the self-described "absurdist rock" band. Let me assure you that while I do have feelings of every stripe for Mr. Brenner, my ardor for him would and will never get in the way of my professionalism. The truth about The Falsies is that they are a very safe band to book - they have tens of reserved, genteel fans and the group plays a very unobjectionable version of acoustic roots and jam music that never goes too far or asks too much. Their quiet ballads about puppies, kittens, flowers and the triumphant power of love over evil makes you say "Ah, yes let's relax with a nice cup of herbal tea and take care, nay pride, to not soil the doilies." Safe, unchallenging and uncompromisingly non-threatening; that's The Falsies I know. Why they would want to lie in press releases and be seen as something other than their true nature is beyond me. So, now that I've set the record straight, join me, the actual Danny Shea, on Friday April 19th at The Southern for an evening of agreeable platitudes and calm, rational discourse set to ever increasingly polite music by The Falsies, yes, the true Falsies.
P.S: Lance's claim that opening band Ruckus the Bulldog will be an actual bulldog chain-smoking Marlboros while playing slide guitar should be chalked up to wishful thinking. They are a fully human, fully rockin' duo and their excellent music can be found here: https://ruckusthebulldog.bandcamp.com/releases

We are the originators of absurdist rock, We were theatrical punk before it was cool. Oh theatrical punk's not a thing yet...well, we're still on the cutting edge then. File also under cock pop, party punk, spunk rock.
About Ruckus The Bulldog:
Ruckus The Bulldog is a rock duo from Charlottesville, VA. The band consists of Billy Castle on guitar and Jimmy Czywczyski on drums. These two nugs share a passion for heavy face-melting riffage played at ear damaging volumes. They also enjoy a nice Sunday brunch atop a mountain of their vanquished enemies.

Genre: Rock, Punk, Metal, Funk, Comedy

Similar artists: Rage Against The Machine, The White Stripes, Tenacious D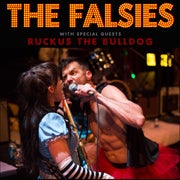 Doors

6:30 PM

Show

8:30 PM

Price

$7 Advance

$10 Day of Show

$20 Limited 4-Pack ($5 per ticket)
SHOWINGS
This event has already occurred.