Wed, Jun 11, 2014
The Get Rights
with Tumbling Bones
About The Get Rights: Armed with the smoke, noise, and feel of the honky tonks, The Get Rights are not your typical tribute band, and not riding the wave of any fads... they're gettin' right with what's been put down in front of them from greats like Hank Williams, Bob Wills, Milton Brown, Patsy Cline, Dolly Parton & Jean Shephard.
Headed by Tom Marshall and Sabra Guzmán, The Get Rights can be found playing in the Central VA and mid-Atlantic area, and have been know to reach as far as anyone might want to beckon them. Dance floors, bars, weddings, shindigs and more. But you can always catch them at their regular honky tonk spot, The Blue Moon Diner, every 2nd Thursday of the month in their hometown of Charlottesville VA."
Whether performing as an intimate acoustic duo, or a full-fledged 5-piece band, The Get Rights step up to the plate and bring all that classic country has to offer. . . the stories, the heartaches, the trysts, and even the gentle reminders of what love could be. Early country, western swing, honky tonk or old time, it's hard to nail down exactly what The Get Rights will bring you. Sets may start off with a Wanda Jackson/rockabilly feel, and end with a sweet love song, like "I'm Confessin' that I Love You" or "Rockin' Years." Listeners are in want to get up and shake a tail with their new flirt, or share a drink with their pals and make toasts to the bands while drowning their sorrows away. A band that fits the scene for all occasions.
About Tumbling Bones: Tumbling Bones is an ensemble of young men inspired by old music. Drawing on bluegrass, pre-war folk, and a bit of the contemporary rock 'n' roll the guys were reared on, they make their music with nothing but acoustic instruments, tap-shoes, and—most of all—their voices.
Founding members Pete Winne (guitar, foot percussion) and Jake Hoffman (banjo, upright bass) met ten years ago when they were auspiciously assigned to each other as freshman year roommates. Together they delved into the roots of rock 'n' roll and formed string band The Powder Kegs, with whom they won an on-air contest in 2007 on A Prairie Home Companion with Garrison Keillor. In 2011 Winne and Hoffman founded Tumbling Bones as a roots group with singing as the centerpiece and arrangements inspired by bluegrass gospel, jug band music, and classic R&B. Two years later, and after moving to Portland, Maine, they joined forces with songwriter Kyle Morgan (guitar, upright bass). The new line up allowed the boys to do what they love best—sing in dynamic three-part harmony—and to create a distinct sound combining Morgan's voice and compositions with their collective passion for traditional American folk music.
This merging of old with new comes to fruition on Loving a Fool, the band's first full-length album: half original songs and half traditional numbers with a Tumbling Bones stamp. The record crosses both stylistic and chronological boundaries and includes full-steam ahead bluegrass, a ghostly suicide ballad, classic country, western swing, and rockabilly. Through stripped down songs and fearless a cappella numbers the band reveals an anti-auto-tune attitude and reverence for old records.
Tumbling Bones was recently selected as one of ten bands (including fellow string band Della Mae) to travel this year with American Music Abroad, a U.S. State Department-funded cultural diplomacy program that sends American roots bands to perform, collaborate with local musicians, and teach workshops in countries ​all over the globe.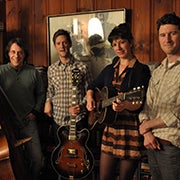 Doors

7:30 PM

Show

8:00 PM

Price

$8 Advance

$10 Day of Show
SHOWINGS
This event has already occurred.