Sat, May 11, 2019
The Judy Chops & Holy Roller
About The Judy Chops:
For the past decade The Judy Chops have been wowing audiences with their deft musicianship and high-energy live shows. This seven piece band comprised of family and friends has evolved from a Shenandoah Valley favorite into one of the hottest acts in the Virginia music scene. Their unique take on Americana is a fusion of modern and vintage musical styles, blending elements of swing, blues, rock, and soul for a sonic experience Huffington Post calls 'genre-defying!'
Electric guitar // Vocals William Howard
Hollowbody guitar // Vocals Molly Murphy
Banjo // Vocals Sally Murphy
Trumpet Mike Pressel
Baritone saxophone Rachel Smith
Bass Jims Hinkle
Drums Jess Bergh

About Holy Roller:
Richmond, VA based Holy Roller is hitting the scene with their self titled, debut album. With roots dug deep in rock, americana, soul, and country, Holy Roller brings a sound that's as much new as it is a welcome home after too long spent away. Beautiful harmonies that seem to cry out like the rivers they were written for are paired with honest songs of love, loss, home, and heartache. Holy Roller is an absolutely compelling live performance and their recordings are both intimate and exciting, from the homesick, "Oh, Virginia", to the R&B steamroller, "Muscle Up." By way of the stage or by way of their debut album, this a group that wants to take you back to the front porch they grew up on. Holy Roller is a drinking buddy and an arm around your shoulder.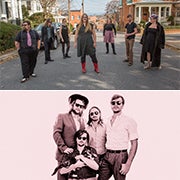 Doors

7:00 PM

Show

9:00 PM

Price

$10 General Admission
SHOWINGS
This event has already occurred.