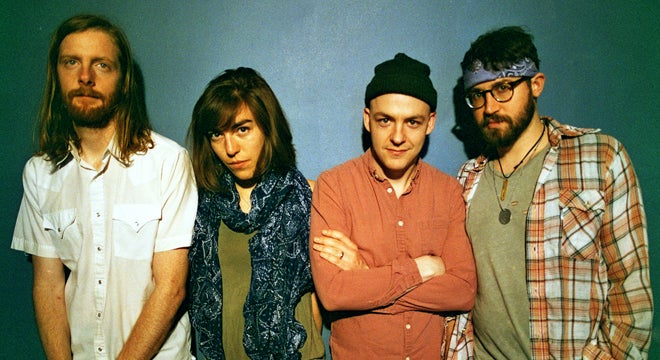 Tue, Aug 23, 2016
The Stray Birds
with Koda Kerl and Luke Barnhill & Friends
About The Stray Birds
The Stray Birds light the night with sparkling harmonies and wrestle hearts with the quiet power of song. A devoted trio of singers, songwriters, and multi-instrumentalists, the band's passionate live shows and critically acclaimed recordings—Best Medicine (Yep Roc Records, 2014) and The Stray Birds (self-released, 2012)— have launched them to turntables and festival stages around the globe. Oliver Craven, Maya de Vitry, and Charles Muench are on the road this summer in anticipation of their 3rd full-length record of original music, coming in 2016 from Yep Roc Records.
New to the stage this summer is Eau Claire, Wisconsin musician Shane Leonard on drums and percussion. He joined the band in the studio in December 2015, bringing a dynamic rhythmic undercurrent to The Stray Birds. The band's live shows this summer will bring fans a preview of the sounds coming on this highly anticipated 2016 release! Amidst their expanding sound, the trio is dedicated to preserving the intimacy of their beloved acoustic show, and will once again gather around one mic for their first annual "Solstice Roadshow" on the East Coast in June 2016.
Catch The Stray Birds live on tour this summer, as they move into another collaborative and inspired season!
The Stray Birds have been flying high since the 2012 release of their critically acclaimed self-titled album. Two years, hundreds of gigs, and thousands of highway miles later, the genre-melding acoustic trio made its Yep Roc Records debut with Best Medicine, released on October 21, 2014.
"This is the first time that we have written music within the context of being a consistent, traveling, performing band," says de Vitry. "These songs have been largely inspired by places we've been or experiences we've had on the road." The album's title track, "Best Medicine," was inspired by a trip to Schenectady, New York, a town with a lively record store amidst countless abandoned storefronts. This juxtaposition, along with the fascinating life story of the record shop's proprietor, led de Vitry to pen the lyrics, "You never know the gold you can find out there / 'Til you put the needle down and do some digging in the air…if the body is a temple, the soul is a bell/ And that's why music is the best medicine I sell."
The band – multi-instrumentalists and vocalists Maya de Vitry, Oliver Craven, and Charlie Muench – hails from Lancaster, Pennsylvania. All three are classically-trained musicians who've been making music of all kinds since childhood (before they reconnected through the local music scene, de Vitry and Muench first met in middle school orchestra); however, they were also all raised with a steady diet of music ranging from pioneers like The Carter Family and Bill Monroe & His Blue Grass Boys to the joyous invention of The Beatles and The Band, to the groundbreaking artistry of Jimi Hendrix.
After college, Craven was playing with Muench in a bluegrass band called River Wheel when he and de Vitry first met. Craven and de Vitry began sharing their original songs with one another, playing local open mics, and busking regularly at Lancaster's Central Market. In an effort to preserve their songs before an impending parting, the pair recorded the Borderland EP in a friend's basement studio in 2010. Muench appeared as a guest bassist on a few tracks.
It was only a year before the trio would wrap up other endeavors and reassemble in a recording studio, independently releasing their first full-length album, The Stray Birds, in 2012. "Making that record was a really great process for us to learn how we work together as a band," explains de Vitry. The album became a critical darling: NPR included it on their 10 Best Folk/Americana Albums of the Year list and several songs from the project were in heavy rotation on taste-making radio stations like WXPN.
The album's success earned The Stray Birds performance slots at prestigious events like the Philadelphia, Kerrville, and Falcon Ridge Folk Festival and legendary venues like Nashville's famous bluegrass club, The Station Inn. Their steadily increasing popularity led to an appearance on Mountain Stage, where their spellbinding harmonies captivated audiences nationwide and helped to build a dedicated fanbase in the UK and Ireland as well.
The trio, who roots music site No Depression praised as "a band destined for global success," received rave reviews at the 2014 Celtic Connections Festival in Scotland and followed that appearance with a number of sold-out dates in England and Ireland; they plan to return to the UK for a string of shows in September of this year.
Where their previous releases (aside from the 2013 EP, Echo Sessions, which consisted of covers of songs penned by Townes Van Zandt, The Louvin Brothers, Jimmie Rodgers, Nanci Griffith, and Susanna Clark) consisted nearly entirely of songs that the band members wrote individually while remaining close to home, for Best Medicine, the band's primary songwriters, Maya and Oliver, wrote new, original material inspired by their last two and a half years on the road; then The Stray Birds honed the majority of these songs onstage together.
When the group began to work on their new album at Stonebridge Studios in Leesburg, Virginia, The Stray Birds and their co-producer Stuart Martin pursued a method of recording that was unlike any other project the band had ever made before. "It's more us," states Craven. Instead of recording in isolation as they did on The Stray Birds, for Best Medicine, the band eschewed booths and headphones, instead recording the majority of their material live off the floor, in the same room, each musician playing and singing around a microphone, capturing the energy and the familial feel of their live shows. There were few overdubs, which were largely used by the Birds to give several songs an extra layer of texture by adding more instrumental tracks (ranging from slide guitar to piano) instead of using session musicians.
"By the time we recorded this album, singing together had become so natural," explains de Vitry. It had become familial rather than just professional. Our vocal ranges and tones were complementary to begin with, but our inflection and phrasing evolved so effortlessly once we were singing out on the road every night."
Muench agrees, noting, "I think the three of us have really gelled and inhabited The Stray Birds as a single entity. In the beginning it was 'Maya and Oliver and Charlie sometimes playing music together.' Now we are a solid unit."
In addition to being their strongest, most personal, and most authentic album to date, Best Medicine is an album of firsts for these three musicians: it is the band's first full-length album where Charlie Muench sings lead on a song, a jaunty, fiddle-laced version of the traditional tune "Pallet," which has long been a fan favorite at shows. It was also the first song Maya and Oliver sang together back in 2010, making its inclusion on Best Medicine a moment in which the band's journey from a Lancaster basement to the stages of some of the most well known festivals in the country seems to have come full circle. The album is also the first one to include a song co-written by Maya and Oliver, who normally write separately: the poignant "Feathers and Bone," a song that the pair finished in the studio late one night after one of their recording sessions.
Craven's "Stolen Love," on which he sings lead, is arguably his strongest song to date, where the heartbreaking lyrics -- "a stolen love just don't grow" -- are belied by sweet, three-part harmony singing, and the band's infectious take on the traditional song "Who's Gonna Shoe" is downright irresistible.
Many of the songs on Best Medicine have been refined onstage in the last year; however, there is one new song that has never been performed live before. "Never for Nothing," is an unforgettable ballad that shines with a glimmer of hope as de Vitry sings, over delicate piano and guitar, "I'm dripping from the rivers I never meant to cross / But I like the things I'm learning more than anything I've lost / And, oh, I have lost…but not for nothing."
Although The Stray Birds choose to focus on folk music's sounds, harmonies, and tones, rather than its tradition of politically-conscious lyrics, Best Medicine includes two songs that would do Pete Seeger proud: Craven's "Simple Man," a heartbreaking song, reminiscent of Woody Guthrie's Dust Bowl ballads, told from the perspective of a down on his luck farmer who prays he won't live to see the next sunrise, and de Vitry's "Black Hills," a moody song, anchored by clawhammer banjo, about a dark spot in American history – it was inspired by a 2012 National Geographic article titled "In the Shadow of Wounded Knee."
While the bulk of the original material for Best Medicine was written with The Stray Birds in mind, the two songs that close the album come from an earlier time but find a home in the hands of the close-knit trio. Craven's aforementioned "Simple Man", and de Viry's "Might Rain"—the first song she ever wrote— a song for which Muench lays down the bass and picks up the clawhammer banjo in a lulling, old-time inspired arrangement.
Supporting the release of Best Medicine, The Stray Birds are touring through summer 2016, bringing their stunning harmonies and lyrics to theaters, venues, and festivals across the country and world.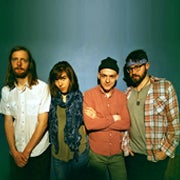 Doors

6:00 PM

Show

8:00 PM

Price

GA Standing Room

$12 Advance

$14 Day of Show
SHOWINGS
This event has already occurred.