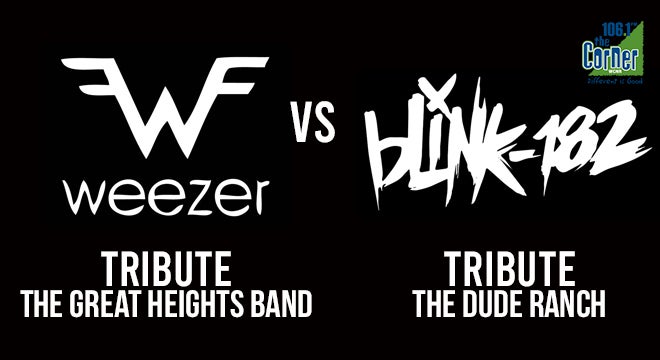 Weezer (as played by The Great Heights Band) vs. Blink-182 (as played by The Dude Ranch)
Thu, Feb 13, 2020
Weezer (as played by The Great Heights Band) vs. Blink-182 (as played by The Dude Ranch)
with Kendall Stewart of 106.1 The Corner
About
The Great Heights Band
:
Baltimore / DC natives, The Great Heights Band formed in the spring of 2014 after longtime friends and former band mates, vocalist/guitarist Neal Karkhanis and bassist Owen Brinser jammed on a few songs with different drummers while trying to rekindle their love and passion for music. Simultaneously, Karkhanis asked drummer Paul Martinez to record a couple of demos with him for fun and after releasing those songs themselves on their personal Facebook pages under the moniker "Great Heights", the duo recruited Brinser to play with them live.
After writing a few more songs and adding pianist/vocalist Linette Gonzalez to the fold, the band began playing in local DIY punk venues in the Baltimore area, and ultimately had an opportunity to open for Hellogoodbye and Vacationer at the storied Ottobar. Soon after, the quartet recorded the band's first EP entitled "Weird Thoughts". The EP was a short and sweet five songs that showed off the new band's ability to write fun pop music that brought people back to the simple times of 90s and early 2000s alternative rock. Only 400 copies of the EP were ever produced and that summer Karkhanis moved to San Francisco, CA. The standout track "Portland" would become an instant fan favorite, and that summer Karkhanis continued to write and record music on the west coast.
Upon his return to the east coast in the fall of 2014, "Weird Thoughts" had begun to build buzz in the local punk/DIY community, and labels began to take notice. Recognizing the commercial potential of TGHB, Lancaster, PA's CI Records offered to release TGHB's debut full length after seeing the one take low budget music video for "Portland". In just under six months of existence and with half the time separated by three thousand miles, TGHB had secured its first break. That winter, the band began work on its debut album "Songs in Eastern Standard Timing" (SIEST, 2015), which would include all five tracks off of "Weird Thoughts" as well as six new songs including one Karkhanis recorded on the west coast.
SIEST was a critical success, with "Portland" and "Coming Around" being its standout tracks for their tongue-in-cheek lyrics, catchy sing-along choruses, and creative music videos. "That's the Way it Goes" and "Pacific / Atlantic" exemplified a more reflective version of the band, with SIEST overall being a polished and strong debut. Five of the six new tracks were engineered and produced by Eric Taft, who became a new addition to the band while filling in on vocal and guitar duties on the road.
2015 - 2017 saw TGHB touring heavily, with shows supporting the likes of Bayside, Andrew WK, New Politics, Unwritten Law and more, as well as independent tours with Icarus the Owl, The Pink Spiders, Carousel Kings, and others. Gonzalez left the band in 2016, and TGHB chose to continue as a four piece. In between touring, Karkhanis and Taft began writing new music for a follow-up record. The writing process led to dozens of new songs that were carefully pieced together and demoed, often times with band members in different time zones for long periods of time. The band begin to track the new album in 2016 at Taft's Buzzlounge Recording Studio, completing it in July 2017. Produced entirely by the band as a DIY effort, the new album, entitled rad-pop., was released on April 20, 2018 courtesy of CI Records.
rad-pop. brings together a diverse mix of pop, punk, nerd, and indie rock, with nods to a retro aesthetic and good old fashioned rock and roll. Throughout the album, TGHB brings in a wide range of influences from the likes of Weezer, The Cure, Gorillaz, Radiohead, ELO, and beyond. The dual vocals of Karkhanis and Taft work in tandem, offering listeners two distinct voices that equally have something to say. The album is sonically diverse and melodically experimental, though always grounded by solid rhythmic grooves provided by bassist Owen Brinser and drummer Paul Martinez.
Lyrically, rad-pop. tackles common themes of love and heartbreak, as well as larger topics such as environmental activism and political uncertainty. rad-pop. is an album about growth, love, and finding happiness in a world struggling to find stability. It is fun and introspective, thoughtful, and tongue-in-cheek.
In April 2018, the band went on tour with Eternal Boy, hitting cities throughout the north east United States, and in May and June 2018, TGHB embarked on its first west coast tour with good friends Eye the Realist.
About
The Dude Ranch
:
Dude! We heard you like Blink 182 so we put a guy and a guy and a girl and a guy on stage together and they suddenly became Dude Ranch and the Girl at the Rock show. Dude Ranch and The Girl at the Rock show will transport you straight back to the late 90's when the US only had three major music festivals and Furbees were still being sold un-ironically. These four Blink fanatics are hellbent on accurately recreating the classic music and debauchery of "Mark Tom and Travis Show" era Blink.
Dude Ranch and the Girl at the Rock Show includes current and former members of:
Nate Ruess' band
Betty Who
American Idiot on Broadway
Verite
Catey Shaw
Candy Hearts
Lion in the Mane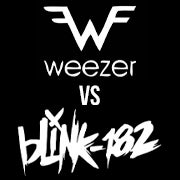 Doors

6:00 PM

Show

8:00 PM

Price

$12 Advance

$15 Day of Show

$40 Limited 4-Pack ($40 per ticket)
SHOWINGS
This event has already occurred.