Mon, May 15, 2017
106.1 The Corner welcomes The Wind And The Wave
with Justin Kawika Young and The Native Sibling
About The Wind And The Wave:
In 2014, The Wind and The Wave, a duo from Austin, TX, quietly released one of the best albums of the year. From The Wreckage glowed with a rootsy golden tone that encompassed everything from indie-folk, to alt-country to blues-rock to Southern psychedelia. Its creators, touring musician turned songwriter and producer Dwight Baker and singer-songwriter Patty Lynn, began making music together on a lark, never dreaming anything would come of it. Baker describes it as "kind of like what happens when two friends hold hands and jump in a freezing lake just to see what it feels like." Thanks to the undeniable chemistry between the pair, the music took on a life of its own and The Wind and The Wave soon found themselves with a major-label record deal, embarking on U.S. headlining tours supporting From The Wreckage, having their songs appear in such TV shows as Grey's Anatomy, and racking up millions of plays on Spotify and Apple Music. The band also earned itself a rabid following, with fans especially enamored of Lynn's feisty vocals and brutally personal lyrics about challenging relationships with lovers and family members as well as her relationship with herself. "People really treasure that album," Baker says. "We got tons of letters from people saying it saved their life. They're people who are conflicted and searching and they connect with Patty's lyrics more than anything."
So when it came time for The Wind and The Wave to make their second album, Baker says he and Lynn felt "some bit of an obligation to deliver that again." The band definitely deliver on their new album, Happiness Is Not A Place, and the result is the sound of a band that has stretched itself and grown. Lynn manages to dig even deeper with her lyrics, exploring her feelings about marriage, commitment, and family, while acknowledging her own frantic mind. And the band's sonic palette is nervier, thanks to the album being recorded live by producer Butch Walker, a songwriter and musician who's produced records for such artists as Weezer and Panic! At The Disco. Where From The Wreckage was manicured and polished, thanks to Baker's meticulous production, Happiness Is Not A Place is "rawer and rougher," as Baker puts it. "To me, it sounds reckless with a rock and roll spirit and attitude, an 'I don't give a fuckedness,' if you will. I wanted it to make sense to our fans but to feel like a step forward musically. And I think we accomplished that. It's really rough around the edges, and there's a lot of urgency and pent-up stuff that probably came from both Patty and my nervousness about making a record with an outside producer."
"I hadn't spent much time recording without Dwight," Lynn says. "He's a bit like my security blanket. He lifts me up and makes me better, but he didn't want to be in the room when I sang because that's him going, 'No, Patty, fly. You have your wings and you know how to do this.' I was nervous. I thought, 'How is Butch going to know when I'm good?' Because half the time I don't even know when I'm good. But once we were in the studio and the tapes were rolling, it was fine. Butch helped me trust in my natural abilities more."
For his part, Walker wanted the performances to have a "just learned the song" vibe to them. "I hate the way a lot of records these days, especially on the radio, sound so overthought," Walker says. "My favorite records growing up were all made in a week and had fire because the artists had a lot to prove. I wanted this record to sound like The Wind and The Wave had something to prove as well. I also knew that with Patty's lyrics, we would be able to make something special. She writes incredible words and you can't fuck that up if you keep it out front of the music."
Happiness Is Not A Place has the distinction of containing the first positive songs Lynn has ever written, including the title track and the rollicking first single "Grand Canyon." "'Grand Canyon' is about my brother," she says. "I almost lost him to a major car accident a few years ago. To me the song is about the ability to appreciate what's in front of you and not take the things that matter most for granted. Yes, life has a lot of shit, but can you try to find a way to be happy before it's all over, seemingly in the blink of an eye." The album's title encompasses how Lynn felt over the two years of writing the album. "It's the idea that you never arrive at happiness, put your feet up, relax, and just bask in your destination," she says. "That doesn't happen. In my brain, happiness is a journey, not a destination. You're constantly making an effort to be a better person and that's what makes you happy or content with your life." She adds: "I have a tendency to write sad things, so writing these songs that felt hopeful is a really big thing for me."
Lynn's battles her darker moods elsewhere on the album. A newlywed, she explores what she calls her "weird feelings about marriage and temptation" on "The Redhead in Aberdeen" and "Let's Forget That I Was Ever Even Here," as well as her complicated family dynamics on "Before The World Explodes." She acknowledges her own tormented psyche in the process on "My Mind Is An Endless Sea." "It's me saying to myself, 'Maybe stop being so hard on yourself, Patty. Maybe love yourself a little bit. Why do you carry things around? Why not let the negative thoughts go and not let anxiety control you.' So it's about cultivating this relationship with yourself."
"It's got to be tough to be Patty or anyone in her life, because if something's amiss, she's going to write about it. And you're going to know it's about you and you're going to feel weird about it," Baker says with a chuckle. "Everyone is in the line of fire. Patty and I are two people who, while we strive to be joyful and positive, can be very much morose and negative, and that definitely comes out in the songs."
In March, The Wind and The Wave made the move from RCA Records to Island Records, which will release Happiness Is Not A Place later this year. "I hope our fans hear the urgency and appreciate the rawness of the album," Baker says. "I know that some people really love the beauty of our first record, and I hope they hear the beauty inside the chaos of this record, because it's there. It just might make you feel a little different."
About Justin Kawika Young:

Born and raised in Hawai'i, Justin Kawika Young first found success in his island home. He accumulated eleven number-one hits on Hawai'i radio and four Hawaiian Music Awards before relocating to Los Angeles. He quickly established a following in the local music scene there and connected with other singer/songwriters including Colbie Caillat, eventually joining her band.

Young toured with Caillat as her acoustic guitarist/background vocalist for four years and became Music Director. After traveling the world and co-writing two songs on Colbie's All Of You album, Young decided to re-focus on his own music and has recently completed two EPs, which includes collaborations with Producer Jairus Mozee (Anthony Hamilton), Producer Keith Harris (Black Eyed Peas) and one of his songwriting heroes, David Ryan Harris (John Mayer). The new music, which he describes as "R&B influenced, singer/songwriter".

Justin's original music can also be heard most recently on the soundtracks of Point Break, Wild Horses and The Walking Dead TV series.

About The Native Sibling:
It's a cliché that often you must travel the furthest distance only to discover what was right under your nose all along. Yet this was precisely the experience of Ryan and Kaylee Williams, who together form the Seattle-based, brother-sister duo, The Native Sibling.

A couple of years ago, Kaylee was exploring a scholastic pursuit in a quaint town in rural Ireland. Already an accomplished singer, she found herself quickly assimilating with local musicians and singing traditional acoustic folk music at local pubs. Ryan, taking a break from his normal grind as a touring and session guitar player, came for a visit not knowing what to expect from new and unfamiliar territory.

These two siblings had clearly missed one another, and needed an outlet to rekindle their closeness. What happened next was a spontaneous flurry of songwriting that neither had anticipated. Inspired by their new surroundings, they spent many late nights crafting songs and discovering how seamlessly their voices harmonized into a singular sound and vision. "When I came to visit, it was the first time we had ever performed together. The foreign and musical environment sparked our curiosity to play a few songs together at a pub. It felt as if we had been singing for years," said Ryan.

It was obvious to both that they should continue making music together, so they brainstormed a fitting moniker. "Ryan and I had finally met in a place where we wanted to make the same kind of music. The response assured us that our journey needed to continue as a combined effort," said Kaylee.

Growing up beside the inspiring backdrop of the Santa Cruz mountains, Ryan and Kaylee shared a childhood blessed by a nurturing family, but also marred by tragedy of their mother's death just five years ago. They credit her for instilling in them a passionate spirit and a love of music. Ryan and Kaylee are also heavily influenced by Joy Williams (of the Civil Wars), who was part of their community growing up in Santa Cruz, CA.

After releasing their first EP, recorded by a close friend in Santa Monica, the duo toured up and down the coast, which served to tighten their bond and hone their abilities. In an effort to build upon their momentum, they sought out New York producer Daniel Mendez (Noah Gundersen, Dashboard Confessional, Heart) to make their first full-length album. Ryan and Kaylee took a leap of faith and holed up at Mendez' Brooklyn studio for a full two months. Fortunately, it was the precise chemistry they had been looking for. As Ryan explains, "Daniel listened to what we do naturally, found the best parts and brought them to the forefront of this album. He gave us the perspective to realize what we are capable of creating. I'll never forget him saying, 'If I do my job right, nobody will know I was even here.'"

The result is the meticulously crafted and sonically beautiful 'Letters Kept To Ourselves.' The 10-song album is minimal in its acoustic instrumentation, but lush with harmonies and endlessly rich with emotive lyrics. The music seems to conjure up diverse images of sun-drenched California days, the vastness of the ocean and the emptiness of a cold, windy day in Ireland.

Lyrically, this deeply personal album examines family, meaningful relationships, the pursuit of dreams, overcoming loss, and remaining together through it all. On the powerful and anthemic opener Darkest of Night Skies, Ryan sings, "Flames staring at your face, hollowing your eyes, telling you what you aspire." Its chilling melodies and cavernous bass drum serve as a perfect backdrop to the lyric. As Ryan explains, "Carrying out dreams can often put distance between an individual and their friends and family. In the discomfort of loneliness we can find strength in the experience."

Another standout track, Evening's Wake, features the two singing forcefully over a warm and driving bed of piano and acoustic guitar: "With the weight of winter's hint, we try so hard to bury it. I won't go back, back to them, until the evening awakes." Their haunting harmonies conjure up shades of Emmylou Harris and Graham Parsons, or at times Stevie Nicks and Lindsey Buckingham. "This song acknowledges our own patterns and tempted behaviors. Falling back into them and striving to break them each day," said Kaylee.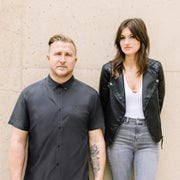 Doors

6:30 PM

Show

8:30 PM

Price

GA Standing Room

$12 Advance

$15 Day of Show
SHOWINGS
This event has already occurred.