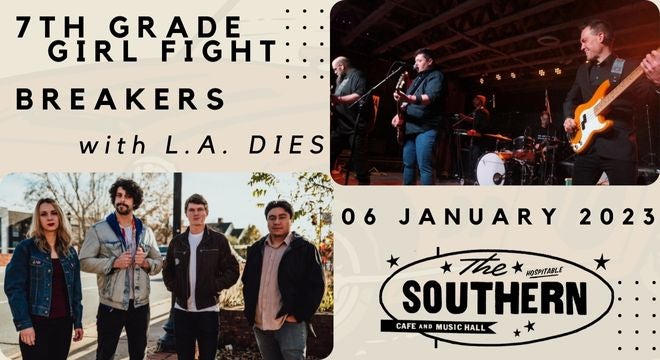 7th Grade Girl Fight, Breakers & LA Dies
Fri, Jan 6, 2023
7th Grade Girl Fight, Breakers & LA Dies
Hailing from Charlottesville, Virginia, 7th Grade Girl Fight woos audiences with their fun, loud blend of garage pop and indie rock. With contagious energy and hooky choruses, 7GGF offers a polished, mature brand of alternative post-punk that feels both nostalgic and brand new.
---
Breakers are a rigorously-calculated, riff-driven, proto-punk alt-rock group out of Charlottesville, VA that deliver an acerbic, infectious sound reminiscent of The Strokes and Queens of the Stone Age. The brainchild of frontman Lucas Brown, the music that Breakers would eventually play finds its roots in NYC when Brown first started writing/composing it in 2009.
Breakers bring a mix of originals stylistically inspired by the past five decades of rock laid over a careful arrangement of interweaving melodies and harmonies. Extracting inspiration from acts such as The Beach Boys, Green Day, John Cage and The Who, it's a realized compositional style spray-painted with simple, straight forward New York rock n' roll. "Debussy meets alt rock" – Anonymous fan
They've just recently released their full-length album, "In Search Of An Exit."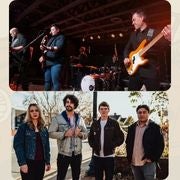 Café

6:00 PM

Doors

7:30 PM

Show

8:00 PM

Price

$10 - Advance
$12 - Door
SHOWINGS
This event has already occurred.