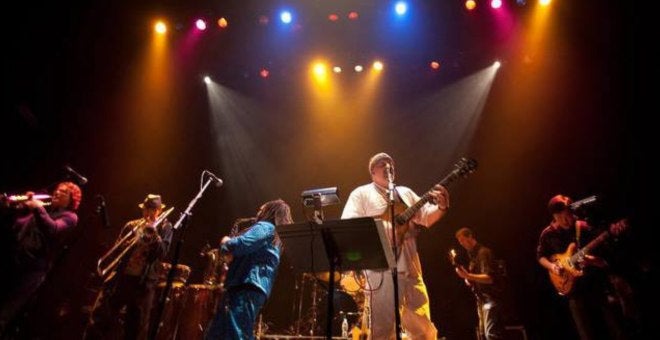 Fri, Aug 18, 2023
Baaba Seth
with Afro Asia
Baaba Seth, one of Charlottesville's best-loved and celebrated bands celebrated their 20th anniversary in 2011 and continues to perform a high energy dance-mix of original worldbeat music with an afro-funk-jazz-rock vibe.
Baaba Seth got their start in 1991, soon after the birth of lead singer Dirk Lind's son (and the soon to be band's namesake), Seth. It all started on original guitarist Kevin Lynch's front porch on Virginia Avenue, with casual jam sessions that included Lynch, Boyd Tinsley, Len Wishart, and others. Dirk and Kevin were fans of African music, and had decided they wanted to create a sound that incorporated the positive mood and infectious grooves of modern African music into distinctly American songwriting.
Tinsley began to play with another band that was just starting out, while Kevin and Dirk assembled the personnel for their new project that included Drex Weaver (formerly from the Boyd Tinsley Band) on drums, Eric Biltonen on bass, John Murphy on harmonica, and Len Wishart (former lead drummer of African drum group Chihamba) on percussion. Baaba Seth was officially born.
The band played around the area for several years, eventually gaining two more percussionists: Chris Mahon from Trinidad, and master Djembe player Mohamed DaCosta from Boké, Guinea. During this period, the band played shows with African luminaries such as Thomas Mapfumo and Malathini and the Mahotella Queens, as well as other international worldbeat artists.
As time went on, the band's increasing popularity and gig schedule became a strain on some members. At a Baaba Seth show at Miller's, Dave Matthews' sax player, the late great LeRoi Moore, sat in on a couple of their songs, and Dirk immediately knew that horns had to be a part of the band's sound. After an amicable breakdown of the original membership, Dirk and Len were left to rebuild the band.
Dirk connected with UVA Jazz Ensemble trumpeter Brandon Rose, and the two began to write some of the seminal Baaba Seth horn lines. After connecting with drummer Jim Ralston, Rose in turn brought in other jazz musicians: Mike Chang on guitar, Hope Clayburn on saxophone, and Lisa Mezzacappa on bass. Mark Maynard, also a member of the UVA Jazz Ensemble, began sitting in on certain gigs and eventually became a permanent member on trombone.
The new members brought with them a new interpretation of the worldbeat sound Lind had developed in those first years, characterized by popping horn lines, intricate solos, and a shift from an afro-folk-rock sound to an afro-funk-jazz-rock vibe.
The band's first album, Crazy Wheel, was released in February of 1996. It was recorded in Dirk's cabin in the dead of winter, recorded by Danny McCrystal (Indecision) and produced by local guitar virtuoso and producer Jamal Millner. The album was greeted eagerly by fans and the media alike, garnering positive reviews in local papers as well as major publications such as the Washington Post and New York's Village Voice.
When Mezzacappa and Rose left the band for personal reasons, Derek Bond and Tim Lett were brought in on bass and trumpet respectively. The band continued to tour the East Coast, sharing the stage with acts like Ziggy Marley, Yellowman, the Wailers, Eek a Mouse, Burning Spear, and others.
Baaba Seth's second album, "Live... at the End of the World," was released in 1998. During this time the band had a rigorous touring schedule, playing colleges and clubs from New York City to the Carolinas. This period brought several more line-up changes - Derek Bond was replaced on bass by Dylan Locke, and Jim Ralston left in 1999, replaced by drummer Mike Taylor. Tim Lett also departed soon after, replaced by Aly Buchanan.
In 2000, Lind moved to Arizona to live on the Navajo Nation, where his wife had taken a job with the Indian Health Service. Though it marked the end of Baaba Seth as a touring ensemble, the band didn't feel that it was time to retire their unique brand of music. Although the members scattered over the years since, and pursued careers both in and outside of music, all felt that Baaba Seth was something special that no one wanted to leave behind.
Thus, what started as a one-off reunion show in 2003 became an annual event. Jim Ralston returned to his seat behind the drums, and the band was back in business. These days, Baaba Seth doesn't refer to their shows as "reunions." As Lind says, "we're simply a band with a very light schedule!" Indeed, Baaba Seth continues to roll on, albeit only a few times a year at most. The current lineup (which many fans consider to be the band's strongest) consists of Dirk Lind, Mike Chang, Hope Clayburn, Len Wishart, Jim Ralston, Mark Maynard, Dylan Locke and Tim Lett.
2011 marked the 20th year that this unique and acclaimed band has been making music. There are not many bands that can survive so long and still love what they are doing so much. And the joy in their music is both obvious and infectious during live performances, as reflected by the ecstatic dancing in the audience that results from the first drum call until the last note.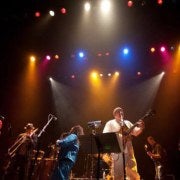 Café

6:00 PM

Doors

7:30 PM

Show

8:00 PM

Price

$20 - GA
SHOWINGS
This event has already occurred.