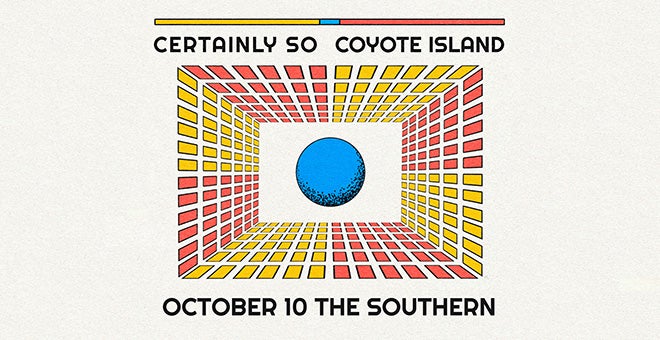 Coyote Island + Certainly So
Tue, Oct 10, 2023
Coyote Island + Certainly So
Coyote Island, the musical vision of Mike O'Hehir, explores a fresh blend of folk, reggae and pop with world music influences creating a playful global sound around stories embracing the human journey. His first single "Here Before" co-produced with trip-hop duo Dazy Park, has garnered over 2 million streams across platforms globally. The follow up EP "Origin Stories" attracted Ineffable Records (Shwayze, Surfer Girl, Anthony B). Coyote Island's highly anticipated debut full-length album "Holy Illusion" was released on June 16, 2023 with singles featuring Grammy-nominated artists Matisyahu and Blvk H3ro, as well as guest collabs with Surfer Girl, Mihali & Ghanaian singer & songwriter Abitemi dropping monthly in the lead up.
---
Gray, Wilson, Porter & Corder — Welcome to Certainly So.
Hailing from Birmingham, AL, childhood friends Tanner Gray and Colby Wilson have been writing music together for over ten years. The pair have drawn inspiration from many genres and eras — The Beatles, The Beach Boys, The Grateful Dead, Vampire Weekend, John Mayer, and Her's to name a few. The music that comes from Gray and Wilson has always boasted blood harmonies as well as thoughtful, invoking lyrics.
Post high school, Gray and Wilson took different paths. Gray attended Mississippi State University, while Wilson stayed in Birmingham. While at MSU, Tanner became acquainted with Chase Porter (bass) and Zach Corder (drums). Porter, Corder, and Gray would form and play in multiple ensembles while in school; always focusing on creating original music and developing a unique sound.
After graduating in 2015, Porter made his way to Nashville to begin a career in a city he loved while playing in a few bands and many songwriter rounds in his spare time. Gray and Corder made their post-graduate home in the panhandle of Florida, forming yet another group: The Graytones. They toured extensively in the region over the next two years. Wilson remained busy in Birmingham with his own original music group, Smoking With The Bandit.
In the Spring of 2019, Gray and Wilson were finally reunited when Gray found himself back in Birmingham as part of a career in craft beer. Corder's path took him to the Music City, catching up with Porter. Gray and Wilson picked up right where they left off in Alabama, and they soon felt a new project starting to take form.
As the duo recorded acoustic demos, they realized they needed a fuller sound, and the two kids from Birmingham reached out to their Mississippi-born rhythm section. The demos were shared north to Nashville, and once Porter and Corder heard what Gray and Wilson were doing, there was never a chance they could say no. In September of 2019, Certainly So was formed. Several months later, in January 2020, the group was introduced to producer/engineer Toby Hulbert. Hulbert had spent the last 8 years at Abbey Road in his hometown of London, England, and was currently in Nashville working alongside hitmaker Dave Cobb. Upon hearing the 'Certainly So' demos, he felt a similar sentiment as Porter and Corder did- he must be involved. Hulbert joined the team as producer. Certainly So and Hulbert gained access to East Avalon Recording Studio in Muscle Shoals through RCA's Colin Lott during April 2020. Over the next two months, Hulbert and Lott teamed up to produce and engineer four weekend sessions, recording what would be the band's debut album Future Self Only Dreams.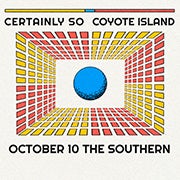 Café

6:00 PM

Doors

7:30 PM

Show

8:00 PM

Price

$12 - Advance
$15 - Door
$40 - College 4 Pack*
*valid student ID required