Sat, Jan 28, 2023
Abby Bryant & The Echoes / Cris Jacobs (Co-Bill)
About Abby Bryant & The Echoes:
A music minister's daughter turned fierce frontwoman, Abby Bryant has cemented her presence as a standout in Americana and soul with her band's debut album Not Your Little Girl. The 13-track LP features Bryant's raw vocal talent supported by the confident and dynamic backing group The Echoes and establishes a strong foundation for the band in the world of vintage-inspired Americana and soul rock.
Playing for church services under her father's direction, Bryant recalls early memories of singing a solo as an angel in a nativity play and backing up the church band in her small-town community near Charlotte, North Carolina. It wasn't until she attended Appalachian State University that Bryant began to seriously consider a professional career in music. Forming the beginnings of the group with her friend from back home Bailey Faulkner, Bryant merged her love of the sound of soul and American roots music embodied by artists like Etta James and Bonnie Raitt with Faulkner's similar passion for American blues and Faces-style rock. With these inspirations, Bryant and Faulkner began co-writing songs that would eventually appear on Not Your Little Girl.
After graduating from college and working with a number of part-time band members, the two relocated to Asheville, NC to form a proper band and quickly began heavy touring that kickstarted an organic fanbase throughout the Southeast. "I've really had to learn to trust myself and lean into our confidence in the band. There will always be difficult moments, but the thought of giving up or even slowing down has never crossed my mind," explains Bryant.
Title track "Not Your Little Girl" announces Bryant's resolve in trusting her judgment and beliefs when faced with adversity. "When I started singing professionally, I was young and vulnerable, and there were a lot of older folks trying to steer my career and life choices. I was done letting myself be in situations where someone would try to control my work or talk down to me," she recounts. "It took so long for me to say / That I'm not your little girl / I gotta find my very own way / To live in this big old world," declares Bryant in the song's powerful chorus.
The album also touches on themes of growing up and leaving home and "having a pretty traditional childhood and needing to build an identity and set of values on my own" describes Bryant. Navigating an often harsh world with a determined and fresh sense of self, Bryant finds comfort in the band's steady march forward. "And if you feel like you're dying … / You just gotta follow your own lead" Bryant affirms on the emphatic rocker "Keep Moving."
Recorded in the band's home base of Asheville, NC, the album features Anthony Dorion on bass, John
Ginty (Robert Randolph & The Family Band, The Allman Betts Band) on Hammond organ and keys, Jeff
Sipe (Col. Bruce Hampton, Leftover Salmon, Susan Tedeschi) on drums, and The Naughty Horns (Nick
Ellman, John Culbreth, Ian Bowman) in addition to Faulkner on guitars and Bryant on vocals. Not Your Little Girl represents the culmination of years of dedication and a decided shift in Bryant and Faulkner's outlook on the band's future – to claim their place among the greats of American roots and soul music.
About Cris Jacobs:
Whether alone with just the guitar and his voice or surrounded by a full band, Cris Jacobs enchants listeners with his inspired, poignant songwriting, virtuous guitar playing, and soulfully transcendent voice. Artists across the board have discovered Jacobs' musicianship and supple versatility, resulting in an impressive variety of formats in which he has played over the last few years. After a decade, five records, and 200 shows a year as principal songwriter and frontman for beloved Baltimore-based band The Bridge from 2001-2011, Jacobs wasted no time continuing to write music of his own and exploring different configurations for his craft. He released his debut solo album, Songs for Cats and Dogs, in 2012, and continued to perform relentlessly, both with his new band and as a solo artist. In doing so, he quickly garnered the admiration of a variety of predecessors and peers: rock legend Steve Winwood saw Jacobs perform in 2014 and soon invited him to open his national tour. The following year, Sturgill Simpson extended the same invitation. Never limited by genre, Jacobs and New Orleans heavyweight Ivan Neville recorded a collaborative album under the name "Neville Jacobs", which will be released in 2017. As an adapting, evolving, versatile musician who has survived on his own merit, Jacobs continues to win over audiences of many tastes, as he brings his characteristic authenticity and soul to every set.
Jacobs feels there are common threads across many genres of music, and he has harnessed over a decade of trans-genre exploration on his second solo album, Dust to Gold, due for release on October 21, 2016, from American Showplace Music. The album is a soul-stirring expression of the current chapter of his creative evolution, featuring twelve well-crafted songs that masterfully weave through the sweet and rugged landscape of soul, country, folk, blues, gospel, and rock and roll. Through every turn, one can easily feel Jacobs' reverence to his influences, but the result is an original, eclectic record with a sound that is authentically his. In a given moment, Jacobs' guitar playing is gritty, soulful, rich, and lyrical. It's subtle, yet adventurous. His voice is at once sweet and sultry, with a honeyed whiskey croon that delivers his thoughtful, expressive lyrics.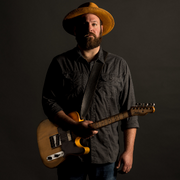 Café

6:00 PM

Doors

7:30 PM

Show

8:00 PM

Price

$16 - Advance
$20 - DOS
SHOWINGS
This event has already occurred.