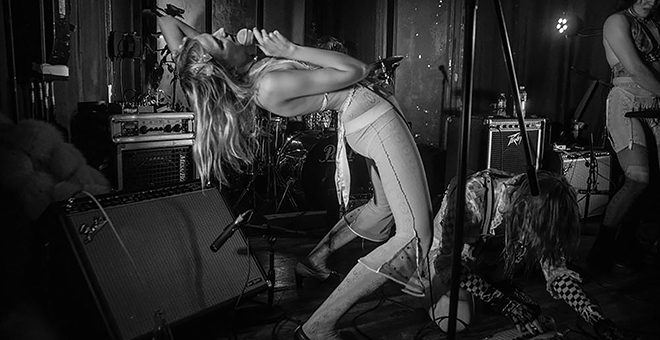 Tue, Jun 21, 2022
c*mgirl8
with Lobby Boy and Emily Rose
From the first time seeing them live, cumgirl8 has always felt part-punk rock, part-performance art. Delving into fashion pursuits featured in Vogue in addition to their latest conceptual music videos, it's clear that the group's creativity and performance quality is currently throttling at its full potential and it's thrilling to see. -Alt Citizen
​CG8 (aka Cumgirl8)—the self-described "sex-positive" band and creative entity dreamed up by Lida Fox, Chase Noelle, and Veronika Vilim—added fashion to their résumé last year with a clubby, nightlife-inspired collection. This season they brought their work into the sun and onto the street when they presented their sophomore collection outside Café Forgot on the Lower East Side on September 11. It was a real New York moment that created a bridge between Y2K and today. -Vogue
Listening to NYC quartet cumgirl8 feels like going back in time and catapulting to the year 2040 all at once. It's a heady, latex-clad future-nostalgia that's part dial-up chatroom, part pioneering punk, and three parts sex-positive dreamgirl from outer-space. -Hero
​Their stage performances are a proverbial exclamation point, one that pogos from one act to the next. An incendiary noise romp that growls at and then humours its audience. -i-D
About Lobby Boy:
Described by The Grey Estates as "the sunset-toned beach vibes of Japanese Breakfast swirled with the growling grunge of Hole," Lobby Boy is the fever dream pop brainchild of Chez Godspeed. Birthed in the hills of Virginia and now residing in Richmond, Lobby Boy premiered their first EP late 2019.
"i like noisy music and dreamy music. sometimes i try to put them together..."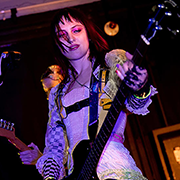 Café

6:00 PM

Doors

7:30 PM

Show

8:00 PM

Price

$12 - Advance

$15 - Door
SHOWINGS
This event has already occurred.