Fri, Sep 23, 2022
Dale and The ZDubs + FeelFree
with Space Koi and Souwa Cweam
A fresh rock-reggae groove is flowing out of the nation's capital, and their name is Dale and the ZDubs. A distinct reggae influence intertwined with a hard hitting rock style, DZD's songs tell raw and oftentimes ridiculous stories. High-energy live shows feature multi-part vocal harmonies, along with thick guitar driven melodies. And sometimes Dale gets naked. DZD's absolute obsession with performing live is the catalyst of their 150+ show dates a year all across the country.
Formed in 2010 in Alexandria, VA on the outskirts of Washington D.C., FeelFree's smooth rock sound incorporates elements of reggae with hard hitting horn lines, tasteful guitar work, and catchy songs. The band independently released their third album "Define the Free" in July of 2018 after premiering their single "Lonely Life" with critically acclaimed Rootfire Cooperative.
The roots of FeelFree were first laid in 2004 when Andrew Pfeiffer (vocals/guitar/trombone), Evan Hulehan (guitars/vocals/production), and Bryan Frank (drums) began playing music together while enrolled in George Washington Middle School in Alexandria, VA. After adding Garrett Clausen on bass/vocals/saxophone and Colin Cantfil on trumpet in 2010, FeelFree was officially formed. The band immediately began releasing songs on the internet over the course of 2010-2013 resulting in two albums worth of material: In The Hills (2012) and The Ebb Tide EP (2013). Word about FeelFree's explosive live show began spreading throughout the mid-Atlantic region creating an underground buzz landing them on stages like D.C.'s 930 Club and Baltimore's Soundstage among others.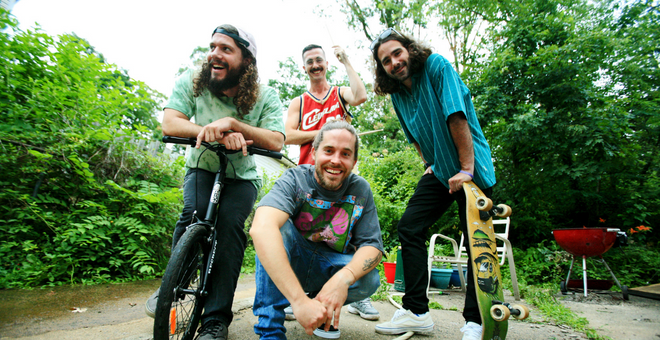 Café

6:00 PM

Doors

7:30 PM

Show

7:45 PM

Price

$12 - Advance
$15 - Door
$40 - 4 Pack
SHOWINGS
This event has already occurred.