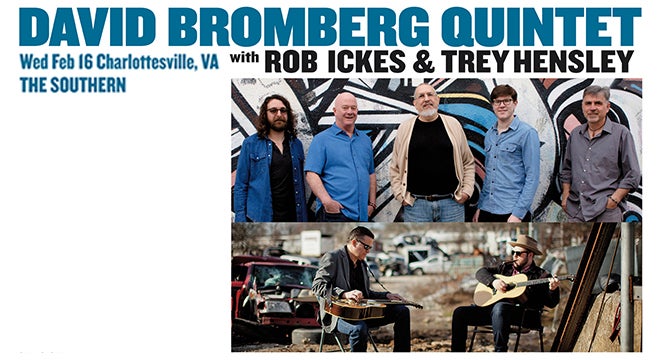 Wed, Feb 16, 2022
David Bromberg Quintet
with Rob Ickes & Trey Hensley
Multi-instrumentalist, singer and songwriter David Bromberg isn't standing still. He is still pushing boundaries, still an iconoclast, still unapologetically unique, as he continues to explore his life's journey via a path that might be considered 'asymmetrical'. His musical expression is still inimitable and his scope of knowledge is encyclopedic. On the upcoming April 17th 'Big Road' (Red House Records,) Bromberg and his band were determined to give fans 'something of value' - in other words, a tangible, content-rich package of music, film, text and photos.
The result is a substantive music/video release, featuring 12 new tracks, five hi-def performance videos and a mini-documentary detailing the album's creation. 'Big Road' will be released in three formats: traditional CD, a gatefold vinyl album and a CD/DVD combo pack. In an age where recorded music has been devalued and relegated to a digital stream for smart phones, 'Big Road' returns the listener to the golden age of recordmaking, when enjoying an album was a tactile, visual and auditory experience.
Bromberg's band is road-tested and filled with ace musicians. Its current lineup is anchored by Mark Cosgrove (guitar, mandolin, vocals), Nate Grower (fiddle, mandolin, guitar, vocals), Josh Kanusky (drums, vocals) and newest member, Suavek Zaniesienko (bass, vocals). Joining David's core band for 'Big Road' are keyboardist extraordinaire Dan Walker on piano, organ and accordion, a stellar horn section of Bromberg regulars Birch Johnson (trombone), Jon-Erik Kellso (trumpet), Matt Koza (tenor sax) and Bob Stewart (tuba) and Larry Campbell (mandolin and pedal steel).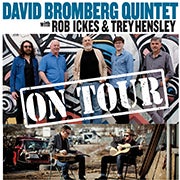 Café

6:00 PM

Doors

7:30 PM

Show

8:00 PM
SHOWINGS
This event has already occurred.