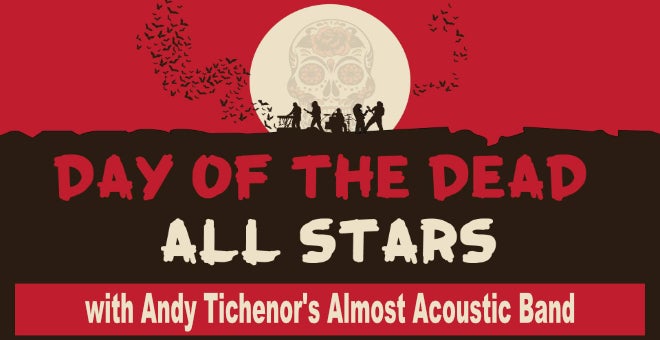 Day Of The Dead All Stars
Fri, Nov 4, 2022
Day Of The Dead All Stars
with Andy Tichenor's Almost Acoustic
Day of the Dead:
Charlottesville's Grateful Dead supergroup is Back! Day of the Dead All Stars is comprised of members of The BLNDRS, Dropping Julia, Sisters & Brothers, Tyler Dick Band, Tequila Mockingbird, Funktional Electrik, and Musicals Suspects, just to name a few. Breathing new life into the beloved Grateful Dead songbook, DOTDA gives a modern, rocking, funky take on the classic tunes while maintaining the sense of exploration and adventure that the Dead were known for. Expect high energy, thundering rhythms, soaring leads, and intense improvisation. Featuring Eric Cope and Nate Smith on guitar, Ben Smith on drums, Charlie Eldridge on keyboards, and Alex Bragg on bass, and often with a plethora of special guests, Day of the Dead All Stars JAM!
Andy Tichenor's Almost Acoustic:
Andy Tichenor's Almost Acoustic is a side project of Andy's focusing on acoustic stylings of his material - ranging from Bob Dylan, The Grateful Dead, Paul Simon, Tom Petty, and many more. Along with a wide variety of bluegrass, new grass, and "jam" grass, the rotating cast of musicians in Almost Acoustic never fails to bring high energy selections that always have thepossibility to expand into an improvisational wonderland. You never quite know what you'll get with each performance but you can guarantee you will walk away with a smile!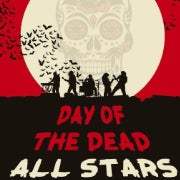 Café

6:00 PM

Doors

7:30 PM

Show

8:00 PM

Price

$10 - Advance
$12 - Door
SHOWINGS
This event has already occurred.