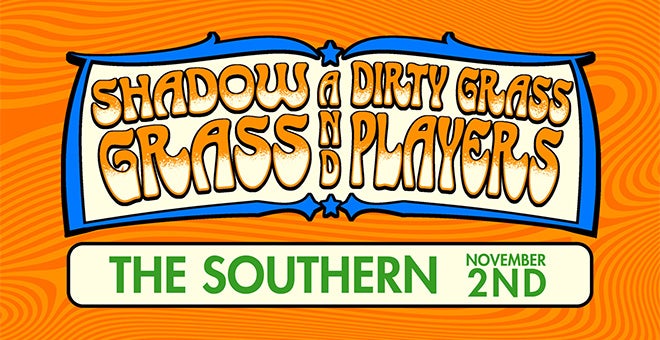 Dirty Grass Players / Shadowgrass
Thu, Nov 2, 2023
Dirty Grass Players / Shadowgrass
With a nod to the past and glance to the future the Dirty Grass Players are keeping alive the long history of bluegrass while pushing the traditional genre into the next generation. The Dirty Grass Players are an energetic explosion of old-time pickin', coloured with an inventive, newgrass hand, that is given lyrical life by their soaring vocal harmonies that exist on an ethereal plain. They live at the crossroads between the traditional, which is the backbone of what they do, and the progressive with their innovative forward-thinking approach. The Dirty Grass Players, with their steady, workman-like precision and loose adventurous spirit are a band that can both confound Bill Monroe and cause him to smile uncontrollably. Their music is progressive, traditional, experimental, imaginative, and at its core, Dirty.
The Dirty Grass Players formed in 2015 around banjo-picker Alex Berman, guitarist Ben Kolakowski, and mandolinist Ryan Rogers at a series of informal picking-sessions in the Baltimore area. The band quickly started to garner attention in the area, culminating in them winning the competitive Charm City Bluegrass Festival Battle of the Bands in 2017. The band's original bassist and fiddler left shortly after andt they solidified around the addition of bassist Connor Murray and reemerged as a powerful four-piece. Since then they have released two albums, 2020's Beneath the Woodpile and 2023 Shiny Side Up and established themselves as one of the most exciting young bluegrass bands around. With their high-octane shows they have become a mainstay on the festival circuit, being invited to play at some of the the most prestigious gatherings from coast to coast including Delfest, Grey Fox, Kingman Island, Hot August Music Festival, Dark Star Jubilee, Ramble Fest, First Class Music Fest, and many others.
Their latest album Shiny Side Up, produced by The Travelin' McCourys' Coldy Kilby, continues to further the evolution of bluegrass with its hard-driving sound that showcases the progressive, darkside of bluegrass with its forward-looking, non-traditional playing and songwriting. In its praise of the album, Bluegrass Unlimited says, "Shiny Side Up validates the arrival of the Dirty Grass Players onto the scene and shows bluegrass is in good hands going forward.
---
With their fast picking and fresh arrangements, Shadowgrass is moving forward in the bluegrass genre by incorporating each member's varied influences into a fresh project that branches outside the bounds of traditional music while maintaining traditional instrumentation. Each of the band members grew up in a culturally rich area of traditional music, which heavily influences their approach to music. Feeding off of each other's musical ideas and energy, their music proves to be a constantly evolving world that draws the audience in at every show.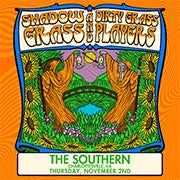 Café

6:00 PM

Doors

7:30 PM

Show

8:00 PM

Price

$16 - Advance
$18 - Doors