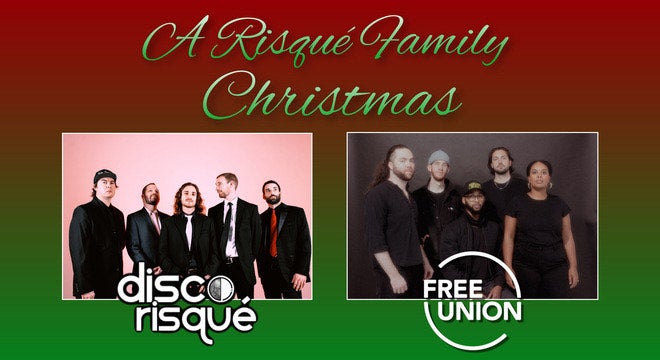 Disco Risque + Free Union
Fri, Dec 17, 2021
Disco Risque + Free Union
A Risque Family Christmas
DISCO RISQUÉ IS ENERGY! SCREAMING GUITARS, POUNDING DRUMS, THUMPING BASS, BLARING HORNS AND RAW VOCALS COME TOGETHER IN A CONTROLLED CHAOS THAT LEAVES LISTENERS ASTOUNDED AND HUNGRY FOR MORE. FORMED IN 2014 AND PERFORMING WITH THE CURRENT LINEUP SINCE MID 2015. DISCO RISQUÉ HAILS FROM CHARLOTTESVILLE, VA AND HAVE SPENT THE LAST YEAR DEVELOPING A SIGNATURE SOUND ATTRACTING A FIERCELY LOYAL FOLLOWING OF DEDICATED FANS. WITHIN THE FIRST YEAR OF PLAYING LIVE THE GROUP DELIVERED THEIR EPONYMOUS DEBUT DOUBLE-ALBUM (AVAILABLE ON ITUNES, SPOTIFY, BANDCAMP, ETC.), PERFORMED WITH UP AND COMING GREATS SUCH AS TAUK, PIGEONS PLAYING PING PONG AND PEOPLES BLUES OF RICHMOND AND WERE CHOSEN TO BE 1 OF 4 VIRGINIA BANDS TO PERFORM AT LOCKN 2018. COMBINING ELEMENTS OF ROCK, FUNK, HIP-HOP, HARDCORE AND POP DISCO RISQUÉ TAKE THEIR LISTENERS TO PREVIOUSLY UNTRODDEN SONIC REALMS. WITH A GRUELING PRACTICE SCHEDULE AND A SEEMINGLY LIMITLESS DESIRE TO TAKE THEIR MUSIC TO THE NEXT LEVEL DISCO RISQUÉ HAVE QUICKLY PROVEN THEMSELVES AS A FAST-RISING POWERHOUSE. WITH THE HIGHLY-ANTICIPATED RELEASE OF THEIR SECOND STUDIO ALBUM THE DR CREW IS CHOMPING AT THE BIT TO SHOW THE WORLD EXACTLY WHERE THEY CAN GET SOME!
Free Union is a Charlottesville, Virginia-based collective led by Michael Coleman (vocals/rhythm guitar) and Rob Dunnenberger (drums), and features Carrie Coleman (vocals), Parker Hawkins (bass), and Tyler Hutcherson (keys). The band's sound is not distillable, it's ever-evolving music is rooted in soul and incorporates rhythm and blues, rock, and pop into its sound.
In its short history, Free Union has found quick momentum including a debut performance at the 2019 Lockn' Music Festival, a feature on NPR Music's Heavy Rotation: September Songs Public Radio Can't Stop Playing (2019), and a national appearance on the acclaimed WXPN National Public Radio program World Café (2020).
Free Union hasn't been dormant through­out the elongated season of quarantine and the COVID-19 era. Over the past year, the band has maintained a Quarantunes Series, releasing live versions of original songs like "Good Day to Cry" and "It Gets Better," alongside holiday tunes and spirited covers of current pop hits by the likes of Harry Styles and Billie Eilish. Free Union released a quarantine created and recorded double single entitled "Somethin' + The Other Side" in January of 2021, each offering a glimmer of hope in the face of the harsh realities of white supremacy and deep-seated division displayed in 2020.
The history behind the collective's name gives context to its message. Free Union, Virginia—originally named Nicksville after a free African American blacksmith—sought to unite people of all races at a time when the country was inherently divided. These principles of inclusivity are the underpinnings of this collective. Free Union brings people, musical styles, and ideas together to inspire a message of unity.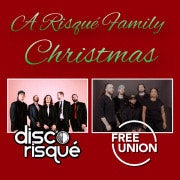 Café

6:00 PM

Doors

7:30 PM

Show

8:00 PM

Price

$12 - Advance

$15 - Day of Show
SHOWINGS
This event has already occurred.