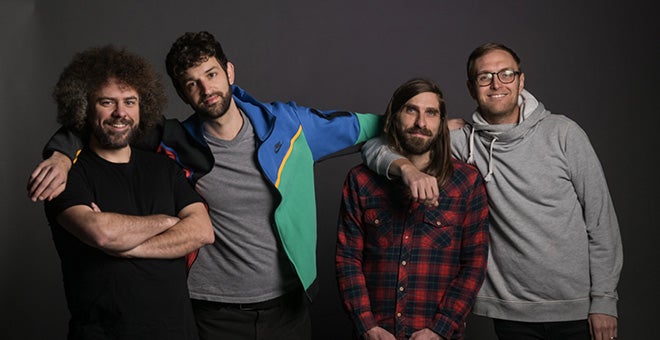 Tue, Sep 19, 2023
Dopapod
with Stolen Gin
Photo credit: Michael Weintrob
Dopapod access a heightened level of cosmic harmony in their music. The quartet—Eli Winderman [keys, vocals], Rob Compa [guitar, vocals], Chuck Jones [bass], and Neal "Fro" Evans [drums]—present albums as experiences meant to be shared out of your speakers and on stage. After generating millions of streams, packing shows coast-to-coast, and earning acclaim from Rolling Stone, Guitar World, Glide Magazine, and more, the group architect an immersive and expansive vision on their self-titled seventh full-length offering, Dopapod.
The group's hypnotic hybrid of funk, rock, jazz, bluegrass, and electronica bloomed brilliantly on 2009's Radar, and it continued to blossom on the likes of Never Odd Or Even [2014] and Megagem [2017]. Along the way, fan favorites such as "Present Ghosts" reeled in 2.4 million Spotify streams and counting. 2019's Emit Time arrived to acclaim from Guitar World, Relix,
Glide, Jambase, and more. Simultaneously, they sold out headline gigs and graced the bills of Electric Forest, Summer Camp, High Sierra, and Bonaroo where Rolling Stone named them among the festival's "best kept secrets." After a marathon near-decade run, they enjoyed an almost year-long hiatus to realign and reenergize before reuniting with a new fire during 2019 and partaking in something of a "soft return."
After a brief hiatus to regroup and recharge their creative efforts, Dopapod assembled what would become their next album, the self-titled Dopapod, and looked at the loose threads of their catalog to conceptually tie their journey together. They chose to self-title their seventh offering as a totem to the fact they've realized their full potential in terms of music and vision. Tackling time travel, balance and symmetry, binary pairs and more, Dopapod's palindromic existence continues to conjure alchemy nearly fifteen years into their journey.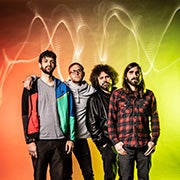 Café

7:00 PM

Doors

7:15 PM

Show

7:45 PM

Price

$20 - Advance
$25 - Door
SHOWINGS
This event has already occurred.