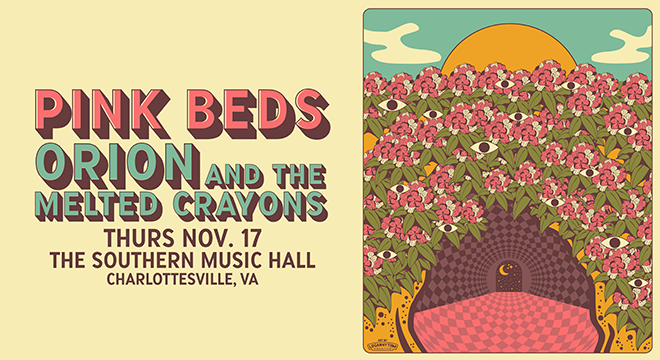 Orion & The Melted Crayons / Pink Beds (Co-Bill)
Thu, Nov 17, 2022
Orion & The Melted Crayons / Pink Beds (Co-Bill)
Orion & The Melted Crayons:
Orion and the Melted Crayons is the recording name songwriter/producer Orion Faruque uses to develop his songs into studio productions with artists around the US. The music centers around our interactions with the world we live in and how we express ourselves.
With a penchant for finding joy in the moment, Orion's songwriting contrasts soaring highs and everyday peace with poignant pain atop a bed of sweet chords and interlocking rhythm. Live, the project ranges from tight arrangements to improvised jams with the material being brought to life by his favorite multi-instrumentalists.
The debut album, The Good Stuff, was produced in 2020 and contains a whole year of songwriting during the Covid-19 pandemic. Find it now on any digital streaming platform or contact us to order a physical copy!
Pink Beds:
Pink Beds is a cerebral indie pop band formed in 2020 at the cusp of the initial lockdowns. Composed of four friends from Asheville, NC, they've cultivated a strong bond through a shared passion for lush soundscapes, artfully crafted tunes, and rhythms you can't help but be moved by. The mélange of dream pop, new wave, lounge, and disco aims to create an ethereal listening experience with a combination of low-end groove, velvety guitar, silky keys, gritty synth, and catchy melodies.
Pink Beds comprises Aaron Aiken (Vocals & Guitar), Jackson Van Horn (Keys & Guitar), Ryan Sargent (Drums & Percussion), and Logan Hall (Bass).
Making good use of isolation, the group combined their songwriting abilities and production chops to manifest a lush, warm, and evocative sonic environment with their December 2020 debut LP, All I Have. From tracking and production to mixing and mastering, each stage of the process was kept entirely within the group.
Since the release of this album, along with two singles in 2021, the band has grown into a vital act to catch in a live setting, bringing their laser-focus and authentically crafted songs to a multitude of different regions across the US. The essence of Pink Beds, like its namesake, should be enjoyed with your own senses and a group of good friends.
"What started out as a casual jam to entertain a keg party has morphed itself into one of the most intriguing new musical acts in Western North Carolina.
Aiken, a Brevard native, now fronts an Asheville group that stands at the intersection of indie rock, psychedelic folk and cerebral pop. It's a seamless blend, more so a vibrant flow, that harkens back to the sounds of early 2000s indie icons The Strokes and Keane, with a thick thread leading to the melodic camps of Tame Impala and Snow Patrol."
— Garret K. Woodward, Rolling Stone Contributing Writer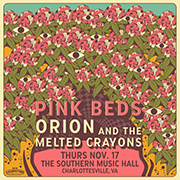 Café

6:00 PM

Doors

7:30 PM

Show

8:00 PM

Price

$12 - Advance
$15 - Door
SHOWINGS
This event has already occurred.