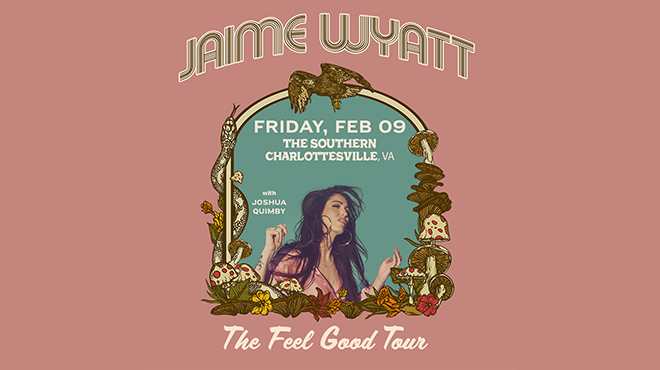 Jaime Wyatt - The Feel Good Tour
Fri, Feb 9, 2024
Jaime Wyatt - The Feel Good Tour
with Joshua Quimby
Hailed by Pitchfork as one of the "most exciting and skillful storytellers" working today, Jaime Wyatt is the kind of generational talent whose raw, honest lyricism is matched only by the power of her huge, unmistakable voice. A West Coast native, Wyatt first began turning heads with her breakout 2017 debut, Felony Blues, which chronicled her now much-publicized battle with addiction and transformative journey through the criminal justice system. Her 2020 follow-up, Neon Cross, tackled even more profoundly personal revelations and arrived to similar acclaim, with NPR praising Wyatt's "remarkable voice" and Rolling Stone lauding her "lush, layered, and complex" performances. With Feel Good, her third and most ambitious album yet, Wyatt pushes her sound to new sonic and emotional heights, blurring the lines between classic roots, southern soul, and vintage R&B.
"I wanted to make music you could move to," Wyatt explains, "but I still wanted it to have heart and integrity."
Recorded with Black Pumas' Adrian Quesada, the album is bold and ecstatic, built on tight, intoxicating grooves that belie the songs' substantial emotional stakes. Wyatt's writing is unguarded and intuitive here, tapping into the deep recesses of her subconscious as she reckons with grief and growth, and her delivery is visceral to match, cutting straight to the bone with equal parts sensitivity and swagger. Taken as a whole, the collection stands as a radical act of creative liberation from an artist already known for pushing limits, a genre-defying work of healing and self-love that tips its cap to everything from Al Green and Otis Redding to Waylon Jennings and Bobbie Gentry in its relentless pursuit of peace and pleasure.
"A lot of us grow up feeling like we have to hide who we are just to be accepted, but that comes from a place of fear and judgment," Wyatt explains. "I wrote these songs as a way of letting go of all that, as permission to feel good."
Eschewing the traditionally solitary process that begot her early work, Wyatt penned Feel Good in a series of collaborative, freewheeling writing sessions built around infectious drum and bass grooves. Working with different rhythm sections in LA (her former hometown) and Nashville (her current hometown), Wyatt began experimenting with stream-of-consciousness and improvisation in the rehearsal studio, allowing herself to trust her instincts (as well as those of close collaborator Joshy Soul) as she pulled lyrics and melodies from the ether.
"I really tried to listen to my gut and be in the moment with these songs," Wyatt explains. "I figured out how to stop overthinking and second-guessing myself, and everything started opening up in a really exciting way."
Wyatt carried that same energy into Electric Deluxe Recorders in Austin, where she and the band cut much of the basic tracks and vocals live to tape before fleshing them out with lush horns, strings, and harmonies. The natural chemistry of those performances is easy to hear on the album, which opens with the driving "World Worth Keeping." Written in a fit of inspiration Wyatt herself didn't even understand at the time, the track is a fierce, soulful meditation on the kind of beauty that's worth fighting for, no matter how hopeless things may seem. "Take a look around you / There's a world worth keeping," she proclaims over a shimmering organ and tremolo guitar. Like much of the album, the track is rooted in a defiant optimism, in a refusal to surrender to cynicism and negativity despite its ever-looming presence. The radiant "Back To The Country" finds Heaven in the simplest places, while the buoyant "Love Is A Place" revels in the freedom of being seen for who you truly are, and the effervescent title track embraces pleasure as a primal necessity. "All I want to do / Just to feel good, is just to feel right," Wyatt sings, backed by towering gospel vocals.
"I spent a lot of my life feeling like it was selfish to want to feel good, that women were supposed to be meek and quiet and submissive," she reflects. "I wasn't born like that, though, and these songs were a big part of learning not just to accept myself, but to love myself, because if you can't love yourself, then nobody can."
It's a lesson Wyatt's learned the hard way over the years, and the specters of loneliness, loss, and heartbreak haunt the album throughout. The bittersweet "Hold Me One More Time" struggles with an inevitable parting of ways as it builds into a frenzied, cathartic roar; the sensual "Jukebox Holiday" longs for a love that seems to hang perpetually out of reach; and the stripped-down "Moonlighter" drifts through the world in the dark of night, always on the outside looking in. Even when she's tackling loss on a more existential scale—the ghostly "Where The Damned," for instance, draws on the stories of missing indigenous women in a solemn remembrance of the forgotten, while the rousing "Fugitive" examines the aftermath of gun violence—Wyatt still manages to find something to believe in.
"I think we've all seen over the last few years what isolation can do to people," she reflects. "Sometimes we need a reminder to be kind to ourselves and each other. Sometimes we need a little extra help to let go of all the guilt and shame and pain we carry."
Sometimes we just need to Feel Good.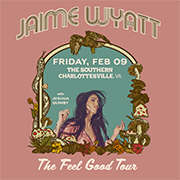 Café

6:00 PM

Doors

7:30 PM

Show

8:00 PM

Price

$20 - Advance
$25 - Doors