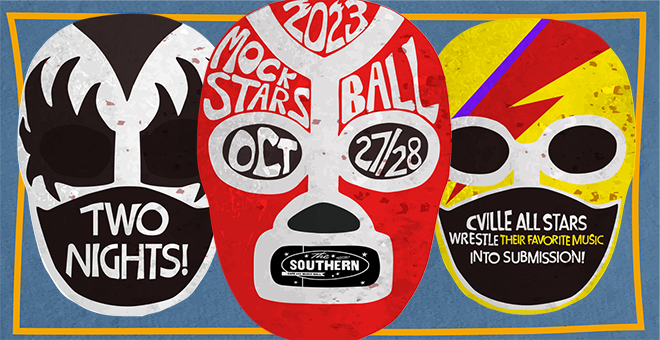 Mock Star's Ball 2023 - Two Night Bundle
Oct
27 - 28
, 2023
Mock Star's Ball 2023 - Two Night Bundle
To Benefit Shelter For Help In Emergency in honor of Whitney French
Bundle your tickets for BOTH NIGHTS!
THE 2023 MOCK STARS BALL IS HERE!
Featuring your hosts: Bebe Gunn and Cherry Possums!
Charlottesville's Best Halloween Party Continues Bigger, Better & More Rockin Than Ever!

Come see your favorite local bands perform sets as your favorite bands of all times!
This event is a local favorite that is far from a mockery. It can win over anyone. A testimony to our rich music community - both silly & amazing.
The Southern is transformed into a Haunted Playground with 2 stages for 6-8 bands each night.
Of Course, what makes it is you. Your time to don your best Halloween - you! Costumes are not required but highly encouraged & why wouldn't you?
Lineup:
Fri 10/27
Ramona & the Holy Smokes as Patsy Cline
Bofa as Derek & The Dominoes
Ark Of Mark as Oasis
Boxed Lunch as The B-52s
P. Dactyl as T. Rex
The Jared Stout Band as Incubus
trout baseline as Jimmy Buffett
Girl Choir as Sex Pistols
Sat 10/28
Theocles as Ed Sheeran
Tinder Box as The Black Keys
Project Bluebird as Jimi Hendrix
Still Cyco as Sepultura
The Currys as Taylor Swift
The Wilson Springs Hotel as Dean Martin
Wild Common as Aretha Franklin and the Swampers
Cougar Beatrice as Red Hot Chili Peppers
This event is a benefit for Shelter For Help In Emergency in Honor of Whitney French.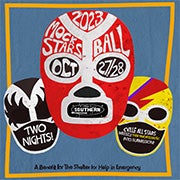 Café

6:00 PM

Doors

7:30 PM

Multiply show times please view list showings list.

Price

$30 - 2 Night Discount