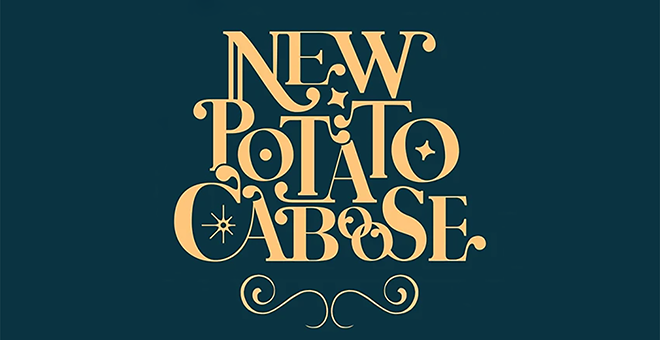 Fri, Jan 19, 2024
New Potato Caboose
with Joe Lawlor and Kristen Rae Bowden
It all started in 1983 at Catholic University in Washington, DC when Doug Pritchett, Don Laux, and John 'Red' Redling noticed each other walking around campus with guitar cases and long hair, and decided to hang out and maybe try a few songs together. Doug, Don and Red made an instant connection with each other and were blown away at how easily their voices blended together and how good the music sounded. So, in the dorm rooms and stairwells of Catholic U, these three started jamming and singing for their friends, who encouraged them to get a gig at the university pub.
From those early gigs, Wood 'n' Steel was born, an acoustic trio with three part harmonies playing everything from CSNY, to the Beatles, Grateful Dead, Bob Dylan, John Prine, America--each player brought his background and influences to the group. Parties around campus turned into gigs at the local Kerry to Derry pub, where everyone in the room would end up shaking what they got.
Over the course of 1985-1986, other classmates broadened the sound. Drummer Chris Arminio, guitarist Rich Della Fera, and bassist Dana Smith electrified the sound of the trio, and as Red switched to keyboards and Don to electric guitar, the New Potato Caboose was born.
With the help of manager/lyricist Mark Mondok, who was introduced to the band by Dana Smith, NPC scored bigger gigs and began developing their own songs and signature sound. Later the band added the powerful double drum sets of John Trupp and John McConnell, along with their friend Mike Mahoney on bass, to lock in one the most slamming rhythm sections anywhere. Trupp also brought his formidable songwriting skills to the group, further pushing the band toward original music.
With the lineup solidified, the band hit the road in earnest. Supporting the group was a multi-layered, ninja road crew of Jeff Wagner, Jeff Aquilla and Dana Cannone (sound), John Bartol (stage), Chris Weber (lights), and road manager Jimmy Paratore, as well as the behind-the-scenes promotion team of Greg Robinson and promotion assistant Chris 'Lightnin' Rod' Lee.
New Potato Caboose grew into a highly successful touring act, playing over two hundred dates per year at colleges, showcase venues, and small theaters across the U.S., and garnering glowing write ups in Pollstar, Billboard, and Variety magazines. Home base was always The Bayou, the venerable Georgetown night club, where NPC established a years-long streak of sold out shows.
This burgeoning success attracted the attention of Rykodisc, a boutique label best known for recording and distributing high quality projects. They paired the band with legendary producer Elliot Mazer, and in 1989 New Potato Caboose released Promising Traveler, their half-live, half-studio debut effort that was launched with a headlining show at the Warner Theater in Washington, DC.
ew Potato Caboose expanded its audience again on the strength of their new release, fueling the beginning of the jam band era and sharing the bill with such groups as Blues Traveler, Widespread Panic, The Neville Brothers, Dave Matthews, The Band, Dave Mason, Billy Preston, Zero and many more. NPC was chosen to play the very first show at the legendary crucible of the jam band scene, The Wetlands in New York City, which became a favorite boogie zone for both the band and its fans.
In the early '90's, the lineup began to change as the band learned that the business end of the music scene is not easy or forgiving. Doug's longtime friend Sam Pointer brought in his vocals, lead guitar and songwriting, Chris Arminio returned as the solo drummer, and Jerry Smith added his bass grooves to the sound. A later incarnation of the band included New York based session musicians Nat Seeley on drums, and either Dom Richards or Marc West on bass. This group recorded the Winds of Change EP at the Allman Brothers' studio in Sarasota, FL. The subsequent touring to support that record marked a final wind-down for the band's touring life, and NPC retired from the road in 1996.
After that, you could still find the sound and soul of The New Potato Caboose in spinoff projects, including Wood 'n' Steel, The True, and Radio Mosaic.
In 1998, the news came out that The Bayou was closing for good. This prompted one last reunion show at the band's old haunt, featuring the original Promising Traveler lineup. The good vibes flowed from this gig, and the bandmates realized how important it was for them to keep the fire burning for themselves and for their fans. Several more reunion shows ensued over the next several years, with ace lead guitarist Tim Pruitt permanently taking over the solo duties. This grew into NPC playing several mini tours per year, complete with new songs and renewed enthusiasm about the band's place in the current music scene.
---
Joe was born into a creative family from the Washington DC area. He began playing guitar at age 10 and instantly knew he had found his calling. Joe's progress was unbridled and after high school, he attended the prestigious Berklee College of Music.
As a founding member of several progressive funk and rock bands, including the Washington DC based band Egypt, Joe's notoriety grew as exponentially as his guitar playing bloomed. He quickly became a sought after session guitarist and has added his signature style to countless recordings. Joe's influences range from guitar heros like Jimi Hendrix and Jeff Beck, to delta slide blues and the creole/second line stomp of New Orleans.
At the core, Joe Lawlor is a master of American guitar styles, but his embrace of the ethnic modes found in Sitar, and Qawwali music, give him his unique sound. No stranger to R&B, Funk, Blues, Metal and Hip Hop, Joe combines the right mix of all his musical influences to hit the mark, every time. For the past 14 years Joe has traveled the globe with the Dave Matthews Band as part of their audio crew specifically working as their live recording engineer and archivist.
---
The right kind of friction creates glorious sparks. Coursing within the heart and mind of singer-songwriter Kristen Rae Bowden is a beautiful turmoil of tenderness and willfulness. It's a paradoxical sentiment also evident in her artistic sensibilities. Her latest series of singles is centered around the sparring of conscious and subconscious memories, and in the rub between the earthy and the electronic.
"My music expresses the contradictions I feel within myself: inner struggles between heart and head, emotions, and logic," admits the Charlottesville, Virginia-based artist.
Kristen's music exhibits a bold vulnerability. She's a confessional storyteller with a theatrical flair who draws from a wide swath of influences. For her latest program of singles, Kristen took an impressionistic approach, pulling inspiration from an imaginary world grounded by real feelings. Fittingly, her Americana songcraft is lavished by otherworldly textures, recalling the ethereal and emotionally evocative work of Phoebe Bridgers, Radiohead, Madi Diaz, and Kate Bush.
"I see songwriting as a kind of alchemy. With music, I can turn a bad situation that I may regret into a worthwhile endeavor, after the fact," she confides. "My attitude is: if I write a great song about it, it was worth doing. I take all my problems to the piano."
The catharsis in her music is physically evident in her piano playing, and her emotive and dynamic vocals. Kristen plays the piano like she's mad at it; her full body pulsates with rhythm as she attacks the instrument. Her vocals sweep upward from richly expressive lower-register belting to a soaring angelic soprano. Her phrasing swaggers with mama lion toughness, playful sass, and sweet sincerity.
Kristen's current series of singles dives into a dream state of memories, both real and imagined. Themes of nostalgia, distance, independence, and self-revelation are explored through Kristen's timeless songcraft and poetic and metaphorical lyric writing. "Sometimes when you remember something, it's not as it really was—the actual events may shuffle around, the colors change, and people's faces are hard to make out. These songs are like an abstraction—looking at the past through a fisheye lens with things all blurry," Kristen says.
The ethereal indie-pop single, "Hard to Love," goes from earth-tones to neon, and it is a love letter to all the cynical and jaded dreamers who bristle at commercial romance around the Valentine's Day holiday. The track features a steady heartbeat of muted electronic drums, a vintage-y analog synth, silken guitar filigreed, and Kristen's layered harmonies on the anthemic chorus. The stately piano ballad, "Marry Me Once," is an empowering slow-burner that addresses societal pressure to get hitched. Kristen sings: It's taken a long road/To feel like I stand alone/And when I carry a heavy load/All I think about is going home/And I know you mean it/But what can I say/I'm afraid of being needed/And of losing my own way.
Kristen's debut album Language And Mirrors, released in 2019, is a vibrant mix of complimentary stylistic explorations. "The country songs evoke the mountains where I grew up, the smell of damp earth, and childhood memories. And the orchestral songs are about the drive to be independent and let go of the past to move forward," Kristen explains.

Throughout the album's twist and turns are Kristen's timeless songcraft and poetic and metaphorical lyric writing. "I prefer using metaphors, rather than being literal, because a literal description will explain what happened, but a metaphor can paint the way it felt," she details.

Select album standouts include "Driven To Roam," "Party On The Mountain," "Solid Ground," and "My Father's Daughter." "Driven To Roam" opens with a lilting melancholy piano figure, ethereal guitars, and smoldering vocals. Its orchestral expanse surges upward dramatically as the song unfolds, lending the feeling of an emotional odyssey. The country-tinged "Party On The Mountain" pines for those carefree nights of yore drinking in the fields of her hometown of Boone, North Carolina with her high school buds. "It's one of the few songs I've written not inspired by feelings of frustration," Kristen says with a good-natured laugh. "Solid Ground" is the crossroads where Kristen's earthy folksiness melds with her brazen prog-rock sensibility.

The poignant and autobiographical ballad "My Father's Daughter" might be the closest song to Kristen's heart on Language And Mirrors. Her father passed away when she was 18 (her father was 61 when Kristen was born). The track details the complexities inherent in having a relationship with someone with a similar story, and touches on the meaning of the album title, Language and Mirrors. Kristen expands: "The album's concept centers around how the people closest to us reflect ourselves. They are our metaphorical mirrors."

Kristen showed great promise as a musician from an early age. She wowed her family as a 5 year-old picking out the melody for "The Rose" on piano. When asked how she learned the music, she proudly proclaimed "I eared it out." As a child, Kristen also showed prodigious talents as a harmony vocalist—she recalls harmonizing with the garage door as it opened mornings before school.
Home was the optimum place for Kristen to nurture her nascent talents. Her father was a charismatic musician, and his infectious love for music made an indelible impact on Kristen and her siblings, many of whom today are professional musicians (her brother, Richard Bowden, is Ryan Bingham's touring fiddle player).
With a well-received debut album, a growing buzzed-about reputation for her live performances, and her current fleet of new singles, Kristen takes pause to thoughtfully ponder the impact of her music. "Few things can create an intimacy between strangers as well as a song," she says. "I hope people feel like these songs 'know them,' like someone far away feels exactly as they do."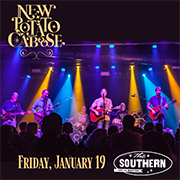 Café

6:00 PM

Doors

7:30 PM

Show

8:00 PM

Price

General Admission
$25 - Advance
$28 - Door
All Ages