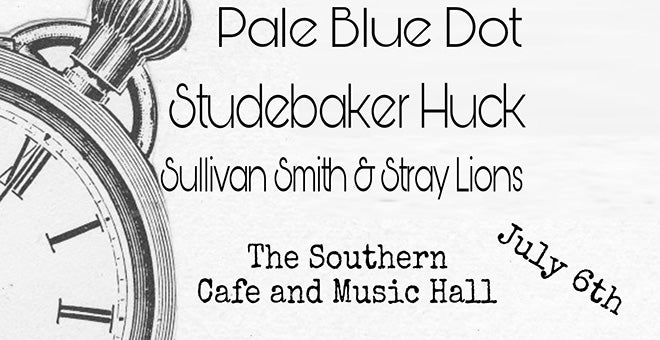 Thu, Jul 6, 2023
Pale Blue Dot
with Studebaker Huck plus Sullivan Smith and Stray Lions
A band with a purpose, Pale Blue Dot writes songs about the things that truly matter. The group does not concern themselves with ego and heartache, focusing instead on the state of the world. Their songs encapsulate a sense of empathy that is both comforting and infectious, causing all who encounter them to work harder at leading more compassionate lives. The band wants to make you think as much as they make you feel, and it's their dedication to influencing positive change that sets them apart from their peers.
Anyone who listens to Pale Blue Dot should consider themselves an explorer. The band's catalog is an audio odyssey propelling the audience toward a deeper understanding of themselves and their place in the universe. Their creativity reflects Henry David Thoreau's theory that music is a tether to the earliest of times and the latest, which grants us the unique gift of perspective. Being alive is about much more than the things we want, and Pale Blue Dot brings that understanding to listeners with catchy melodies backed by razor-sharp lyricism.
---
Appropriately born out of a basement in downtown Charlottesville, VA, STUDEBAKER HUCK is the rock n' roll equivalent of a dark and dingy room. Fusing elements of southern rock, punk, country, and folk with a straight-forward and honest approach to songwriting, STUDEBAKER HUCK's sound manages to wear it's heart on it's sleeve while blowing the roof off the joint. Jarrod Zbieg writes the words and sings em' while strumming along, Bobby Finley brings focused and powerful bass lines to the party, Zach Bradshaw levels the boom with his groovy yet ferocious drumming, and Andrew Mundell brings it all home with ghostly harmony vocals and beautiful horn lines from his Great-Granddad's old euphonium.
STUDEBAKER HUCK's new record "BLOOD MOON" is a brooding contemplation on love, fate, and how the choices we make conflict with the things we can't control. The wistful sound they conjure is anchored by a steady rock beat over which acoustic and distorted guitars, thundering bass, and three-part harmonies swirl into an eclectic brew they call "dark country". Produced by the legendary Lance Koehler at Minimum Wage Recording in Richmond, VA, "BLOOD MOON" pits the promise of a starry night against the blur of an early morning.
---
Sullivan Smith and Stray Lions is a pop group or musical dance craze from Roanoke Virginia. Just a songwriter and a makeshift band. Oddities are Odd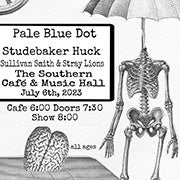 Café

6:00 PM

Doors

7:30 PM

Show

8:00 PM

Price

$12 - Advance
$15 - Door
$40 - 4 Pack
SHOWINGS
This event has already occurred.