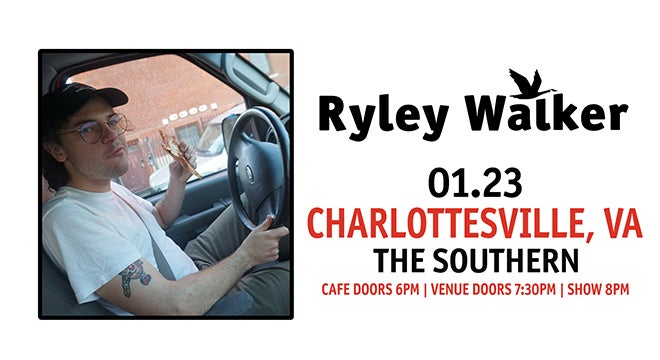 An Evening with Ryley Walker
Sun, Jan 23, 2022
An Evening with Ryley Walker
Ryley Walker is an accomplished fingerstyle guitarist, singer, and songwriter from Chicago whose music and evolution as an artist have proven mercurial. He moved from noisy avant-garde work in his nascent stages into virtuosic guitar playing and floating spiritual pop that traced lines between Bert Jansch, Van Morrison, and somehow even the Dave Matthews Band. Walker's love of DMB was highlighted in his dark interpretations of their songs on the 2018 covers album The Lillywhite Sessions.
After spending a few years cutting his teeth on the Chicago indie and experimental music scenes, Walker began giving solo live performances on acoustic guitar, drawing the inevitable comparisons to his peers, from William Tyler and Glenn Jones to British Isles guitarists ranging from John Renbourn to Davy Graham and Martin Carthy. For his part, Walker proved delightfully unpredictable, shapeshifting styles from blues and folk to pop and experimental sounds.
The first recorded aspect of his complex musical persona arrived with the cassette-only EP The Evidence of Things Unseen, issued in a limited edition from Plustapes in 2011. Its artwork was deliberately reminiscent of John Fahey's Death Chants Breakdowns & Military Favorites, and inspired by the American Primitive lexicon of Takoma Records. Later that year he released -- again via cassette on Plustapes -- Of Deathly Premonitions, a four-song collaboration with fellow fingerstyle guitarist Daniel Bachman. Walker's first widely circulated recording was a vinyl-only three-song 12" entitled West Wind from Tompkins Square Records in 2013. His debut album, All Kinds of You, was issued by the label in April of 2014.
After intensive touring and playing on others' records, he signed to Dead Oceans in the fall. Recording in Chicago with a cast of improvisational and jazz session aces (including cellist Fred Lonberg-Holm and vibraphonist Jason Adasiewicz), Walker completed Primrose Green, issued in 2015. It was the first of his recordings to feature his own vocals. Musically, it blurs the lines between folk, rock, jazz, and new music. After nearly ten months of touring Primrose Green, Walker returned to Chicago and set about writing and recording his third album. Inspired in part by the Windy City and local musical heroes Tortoise and Gastr del Sol, the eight-track album, Golden Sings That Have Been Sung, was released in August 2016. 2016 also brought the release of Cannots, a collaborative work between Walker and Chicago free jazz drummer Charles Rumback that was released in limited vinyl quantities for that year's Record Store Day festivities. The following year he and frequent touring partner Bill MacKay issued SpiderBeetleBee, a collection of guitar duets described as "slide blues, Baroque dance, percolating Latin, and deep-focus space" on Drag City.
Walker returned in the spring of 2018 with his own recording entitled Deafman Glance. The set was recorded in Chicago at Minbal (now JAMDEK) Studios and USA Studios with co-producer Leroy Bach (who also contributed guitar and keyboards), and featured regular Walker collaborators Brian Sulpizio and Mackay on electric guitars, Mikel Avery and Quin Kirchner on drums, Andrew Scott Young and Matt Lux on bass, Nate Lepine on flute and saxophone, and Cooper Crain (who also recorded and mixed the record) on synthesizers. Later that year, Walker issued The Lillywhite Sessions. A lifelong music fan, Walker was a devoted Dave Matthews Band follower in his formative teens. The Lillywhite Sessions was the title of an unreleased album that DMB recorded with producer Steve Lillywhite. RCA disliked its dark songs so much, they shelved it and the band quickly cut and dropped the poorly received Everyday instead. Some of the songs from the unissued date -- all of which surfaced during the Napster era -- were re-recorded for Busted Stuff. Walker's versions are radically reworked, playing the dual role of a loving tribute to DMB and reflecting his screwball sense of humor. In 2019 Rumback and Walker teamed once more for their second album of moody, pensive instrumentals entitled Little Common Twist. ~ Thom Jurek, Rovi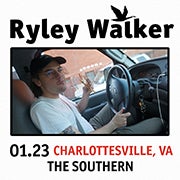 Café

6:00 PM

Doors

7:30 PM

Show

8:00 AM

Price

$15 - Advance

$17 - Day of Show
SHOWINGS
This event has already occurred.