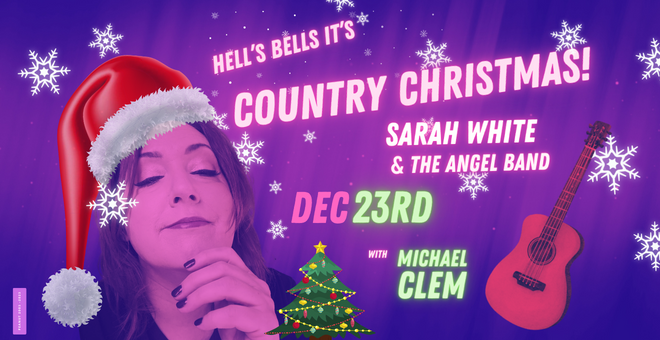 Sarah White's Country Christmas Show
Sat, Dec 23, 2023
Sarah White's Country Christmas Show
with Special Guest Michael Clem and more!!
HEY YOU GUYS!!! It's Country Christmas Time!!!
Virginia Singer-Songwriter and Country Christmas Promoter Sarah White brings together a sleigh full of great musicians, classic country songs, and a big dose of Home-Sweet-Home to Charlottesville.
If you've been to the show, you know why you go. The lights. The trees. The songs. The twinkle. The melancholy? Whatever it is, this magical show is a Charlottesville tradition and people count on it like they count on Santa coming down the chimney.
"I'm obsessed with Christmas and everything sparkling," White told the Daily Progress. "Every year, I'm driving around and picking up tons and tons of new Christmas ornaments for the show." Her childhood obsession goes way back. Growing up on a Christmas tree farm in hillbilly West Virginia has always left her wanting more, more, more! That, coupled with my first Dolly Parton album at age 5, sealed my fate, she says. Dolly put it best: "Less is not more; more is more." But after 20 years, can there really be more? Could there be more lights on the stage? More musicians? More paper chains? It's hard to say, says White, we'll see what Dolly says.
Born and raised in the two Virginias, Sarah White's musical style is as familiar as it is hard to define - not quite country, not quite rock, not quite folk - but a little bit like all of the above. White started her career in the late 90's with two albums of mysterious, lo-fi, experimental folk-rock on the popular Jagjaguwar label. A chameleon-like performer with ever changing line-ups, White has grown into a talented songwriter with a sizable body of poignant, catchy, and moving songs. White produced cult-favorite album White Light (2007) with her band the Pearls, released several EPs and singles, before emerging with High Flyer in 2018. "A dash of country twang and just enough rock and roll bite," said RollingStone of the High Flyer album, which features Dave Matthews on a track. "Absorbing stuff," says Americana UK, of her 2022 cover of Mike Nesmith's "Different Drum." Check it out.
White grew up with hippie parents who exposed her to a wide world of music including bluegrass, country, '60s folk and '70s rock music, and lots of time, space, and creative freedom. Early albums on the Jagjaguwar label post-University of Virginia (Go Hoos!) speak to this variety of influences; subsequent years saw her open for acts like Hall & Oates, Justin Townes Earle and Merle Haggard, and take a ride on the Dave Matthews Band Caravan. Deemed "a diamond in the rough" in the lo-fi era, White has ascended to the top of her own style, delivering magnetic sincerity with a distinct and powerful voice.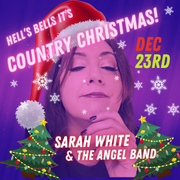 Café

6:00 PM

Doors

7:30 PM

Show

8:00 PM

Price

GA Seated*
$20.00 - GA
$70.00 - 4 Pack
All Ages
*standing room for late arrivals