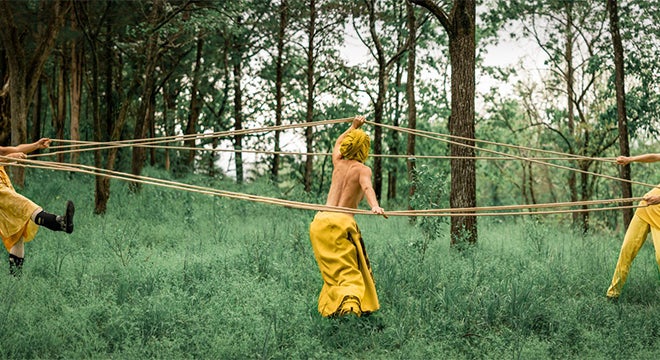 The Near Misses: An Experimental Electropop Opera
Fri, May 31, 2019
The Near Misses: An Experimental Electropop Opera
The Near Misses is an experimental electro-pop opera in the form of an all-female band also called The Near Misses. The show contains an original song cycle with strange percussion, sound collage, and choreography centered around true near-death stories recorded in our communities. We've curated these diverse survival stories to represent a range of scenarios and power dynamics from the personal to the global, e.g. a near-suicide of a single mother, WW2 German blitz survival, disease, assault, and racially-motivated violence (recordings from the car attack victims and a medic from August 12th in Charlottesville). We are also incorporating soundscapes from disappearing wild places in Alaska recorded by eco-acoustic researcher Erik DeLuca in Denali and Wrangell St. Elias.
The performers evoke through music & sound & movement true accounts of peril and intersecting reverberation. They embody the survivors' own interpretations of what is beautiful and innately dysfunctional about humanity, and examine the role of personal and collective memory. As we've gathered these stories, we see what they share in common are recollections of beauty, dark humor, and courage, as well as gaps in memory, lasting changes in perspective, and reconfigured identities.
Personnel:
Jennifer Hoyt Tidwell (Co-Producer, Director & Lyricist) is a theatre and performance artist, and co-founder of PEP, an all-female theater collective with whom she has created original performances periodically. She produces, writes, directs, and performs in cross-disciplinary collaborations. In 2018 she produced, co-directed, and performed in an immersive performance with 20 artists at the Jeffersonian Woolen Mills factory called "Ghost in Reverse" and installed a UVA-commissioned performance at UVA in Charlottesville, "Move Along, Nothing to See Here," addressing the Confederate and Native American statue controversies in Charlottesville. In 2017 she directed her play-opera Drugsong, commissioned by Victory Hall Opera. She was the 2016 Public Artist at the Bridge Progressive Arts Initiative and adapted her play NO WAKE as an outdoor multimedia performance. From 2014-2015 she toured her micro-gallery of reflection, While You Wait. In 2008 she founded Charlottesville Lady Arm Wrestlers (CLAW), a feminist performance event that's since spread to 25+ cities and inspired the award-winning documentary CLAW the Movie. She holds an MFA in Playwriting from Hollins.
Paige Naylor (Co-Producer, Composer & Performer) is a sound artist and composer/performer, specializing in voice and electronics. Her work ranges from electronic to pop, from drone to rock, from free improvisation to meticulously produced. It sits between experimental and pop culture striving to evoke an enigmatic genre. She is a classically trained vocalist and electro-acoustic performer, having performed at SEAMUS, Third Practice, Electronic Music Midwest, the International Electroacoustic Music Festival at Brooklyn College, etc. Having earned her Deep Listening Certificate in 2017 from Rensselaer Polytechnic Institute, she facilitates monthly workshops as an arts fellow at the Bridge Progressive Arts Initiative in Charlottesville, VA. Locally, Naylor plays a mix of live processed vocals, samplers, analog and digital synthesizers, vocoders and drum machines for different projects including palice, pnqbud, SW33T T00TH, & Null Set. She will begin her MFA program in sound art at the School of Art Institute of Chicago in the fall.
Catherine Monnes (Performer) is a multi-instrumentalist performance artist in many genres, notably experimental music; working primarily with strings, voice, and electronics. She loves exploring the place where music and movement meet, particularly through improvisation and collaboration; especially delighting in the unusual and in humor. She strives to bring everyone into music together in performance and in life. This has led to being a guest artist presenting workshops on the intersection of music and movement in Mexico, facilitating movement and bucket drum workshops with refugee kids in NC, at SUNY Fredonia, and at Southwoods Trailer Park in her hometown of Charlottesville Virginia. She's honored to be a regular faculty member teaching improvisation at Music at Port Milford, an international chamber music camp in Ontario; and a MIMA teaching artist. She's been a lover, magician, mother & wife; & is still a shape shifter, a shadow dancer, & a great big fool.
Kara McLane Burke (Performer) is a theatre artist based in Charlottesville, VA. She is a founding member of the theatre collective PEP, most recently creating The Convolution of Pip and Twig with Siân Richards, helping produce the arts carnivals A Charlottesville Wunderkammer, Shentai, and performing in Dido vs The Squid Monster and Our American Ann Sisters; She was a founding member of theatre ensemble Foolery, where she performed in Second Shepherd's Play, Cyrano, Cesario, Something Wanting, Life's A Dream, and directed Vassilisa the Brave; She has played many roles within Shenandoah Shakespeare Express/American Shakespeare Center since 1992, including actor, road manager, director and currently board member; Other performing credits include: Live Arts' The Seagull, Boston Marriage, and Our Lady of 121st Street; Savitri Durkee's sky/no sky (Walker Stage, NYC); Kay Ferguson's The Madwoman Project; and Jennifer Hoyt Tidwell's Drugsong, in collaboration with Victory Hall Opera. She is a native of Westfield, NJ and graduated from James Madison University in 1992 with a BA in Theatre.
Katie Baer Schetlick (Performer) is a dance artist and current Lecturer in Dance at the University of Virginia. She engages dance as a mode(s) of being, an historical object, a process of joyous unproductivity, a subversive and controlling apparatus all at once. Her work has been presented at Dixon Place, Movement Research at Judson Church, NADA Hudson, Museum Perron Oost (Netherlands), International Dance Theatres Festival (Lublin), Downtown Contemporary Arts Festival (Cairo), Bridge Progressive Arts Initiative, Ruffin Gallery, The Haven, and The Welcome Gallery. As a founding member of Yaa Samar! Dance Theatre, she performed both domestically and internationally at the Ramallah Contemporary Dance Festival and Amman International Dance Festival.Together with Zena Bibler, Katie is the co-founder and co-director of the Movement Party and Fleet Moves, a site-based dance festival. She holds an MFA in Dance from Hollins University and a Masters in Performance Studies from New York University.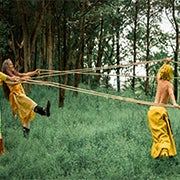 Doors

6:00 PM

Show

8:00 PM

Price

$15 Advance

$20 Day of Show
SHOWINGS
This event has already occurred.