Wed, Oct 15, 2014
The Secret Sisters
with Jacob Tovar
The Secret Sisters initiate many new traditions on their second full-length album, Put Your Needle Down [Republic Records]—produced by the legendary T Bone Burnett. The duo of Laura and Lydia Rogers has certainly come a long way from their critically acclaimed 2010 self-titled debut and an even longer way from their childhood in Florence, Alabama—just outside of the legendary music mecca Muscle Shoals. Embracing a myriad of styles and focusing on songwriting this time around, their growth becomes evinced within both the music and the title.
"Put Your Needle Down is symbolic of many different things," affirms Lydia. "There's a rebirth of the vinyl trend going on, but it really represents the fact that we're not little girls anymore. We want to put the needle down. Our mom isn't still sewing our clothes. We're doing our own thing."
In order to fully realize their identity, the girls immersed themselves in songwriting almost as soon as their first offering hit the shelves four years ago. Their inaugural effort, though lauded unanimously, only included two originals, and Laura and Lydia wanted to reveal a different side of themselves. In between tours with everybody from She & Him and Paul Simon to Ray Lamontagne, filming their own PBS special with Elvis Costello and Jakob Dylan, and recording music for the platinum-selling soundtrack to The Hunger Games, they bounced back and forth from album writing sessions in Nashville, Seattle, and Los Angeles. By the time they entered an L.A. studio with Burnett in early 2013, they had penned an overwhelming catalog of new music.
"It was a natural progression," says Laura. "We knew we needed to take a step forward. We wanted to go in a different direction with a bigger and more diverse sound. We needed to establish ourselves, tell our story, and express who we are as writers. The first time around, we were these two innocent country girls who were very green. Now, we've traveled around the world and made friends and fans. We know what it means to be artists."
With a little guidance from the legendary Burnett, they harnessed a newfound spark, and it fuels the album. Stirring up a gumbo of country, Americana, blues, folk, and gospel, Put Your Needle Down simmers with an elegant vision.
"It was a crazy mix of song and story styles," Laura goes on. "T Bone found the thread that connected all of them. He helped us piece it all together in a really beautiful way, and it feels like a complete vision."
Starting that vision is the first single "Rattle My Bones". Written by the girls' longtime friend Brandi Carlile, the track skips from a Southern-style guitar twang into an upbeat refrain, opening the door into The Secret Sisters' world.
"It has a sassiness to it," exclaims Laura. "It's about getting tangled up with someone you know isn't good for you and will probably disappoint you in the end. There's some anger and frustration in there yet it's still up-tempo. How many of us have gotten wrapped up with somebody we shouldn't have? Yes, we like older music, but this is a testament to our youth. We're still young people who get involved in relationships we shouldn't."
Elsewhere on the album, the Southern gothic dreaminess of "Iuka" gives way to good old fashioned country "murder ballad", as the girls like to call it. "Iuka is a town about an hour away from where we live," Lydia reveals. "In the early part of the 20th century, there was a justice of the peace who would marry under 18 couples legally. Our grandparents did that. We loved the idea of being sneaky, and we built a song around it. Somehow, everybody died at the end!"
Laura laughs, "We never killed anybody in one of our songs. It was time."
On the other end of the spectrum, the final track and consequentially first written for Put Your Needle Down, "River Jordan", pays homage to the pair's faith and gospel influences. "In 2010, we went to this event in Boston where we met Elton John and Leon Russell," recalls Laura. "It was the first time we got to meet artists of that stature. That same night, we witnessed Ralph Stanley perform a spiritual song on stage. It was so simple and magical, yet it had this spookiness and Southern feel. I went back to my hotel room and started writing 'River Jordan'. We finished it in half-an-hour. It's got that tradition of baptism that's part of our history."
The Secret Sisters' own history comes to life vividly within Put Your Needle Down. They're writing their legacy now. "We grew up," Lydia leaves off. "We didn't have a clue on the first album. We never had been in a plane or hailed a taxicab. We were handed this amazing gift to become artists. We treasure it, and we're running with it now."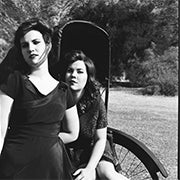 Doors

7:30 PM

Show

8:00 PM

Price

$10 Advance

$12 Day of Show

GA Standing
SHOWINGS
This event has already occurred.