Mon, Apr 21, 2014
New Madrid and Walking Shapes
About New Madrid: From the southern wilds of Athens, GA comes young four-piece, New Madrid. Their music is a dynamic mixture of underwater-psych-rock that engages the listener in fully textured aural landscapes, both on record and live. Their acclaimed 2012 independent debut, Yardboat - engineered by David Barbe (Deerhunter, Drive-By Truckers) at Chase Park Transduction- displayed the band's inherent talents and introduces a distinctive sound budding with sonic energy. In their ever-thriving music- mecca hometown, Yardboat garnered "Album of the Year," and the band's formula of consistent touring and creative restlessness earned them "Artist of the Year" at the Flagpole Music Awards. In the summer of 2013, New Madrid signed to local start-up Normaltown Records, and entered the studio to record what would become Sunswimmer. Their second full-length finds New Madrid further exploring depths of psychedelia and textured noise.
The new record presents a New Madrid audibly settled into itself. Focused into a collection of collaborative songs, the band delves into a more experimental soundscape. Recorded solely on analog tape during a cool, wet July – once again under the direction of David Barbe - Sunswimmer telegraphs a newly confident self-knowledge, from the assertive opening riff of the churning "Manners" to the infectious driving beat behind "Forest Gum." The tracks here are more concentrated than Yardboat's offerings, but fans of New Madrid's expansive tendencies will be sated by the record's final 25 minutes, which are characterized by two linear compositions ("Homesick" and "And She Smiles"). The album's body of music was conceived as a singular piece and is best consumed that way.
In a digital age, when song snippets skip cross-country on the backs of broadband, Sunswimmer is a testament that making music for shared space still remains. With their sophomore album, New Madrid continues to redefine...
About Walking Shapes: Walking Shapes meld driving guitars, intricate arrangements and visually evocative songwriting into stunning audio refractions on New York's sonic landscape. Musically, the album's debut single "Woah Tiger" sets the tone for Taka Come On – fast paced, slightly grimy and sexy – with Hoho's soaring falsetto riding a sonically churning wave, evolving into a primal scream as the verse hits the chorus. If "Woah Tiger" walks a similar path to My Morning Jacket's Evil Urges, the album itself is so versatile, yet concise, that the band's influences are hard to pinpoint. While an extensive guitar solo wouldn't be out of place on a Black Rebel Motorcycle Club record, the organized chaos of a song like "Winter Fell" could be the bastard child of Syd Barrett's post-Pink Floyd albums and Kings of Leon's Because Of The Times. Yet, ultimately, Walking Shapes craft catchy pop songs, reminiscent of the Flaming Lips, such as "Feel Good." Recorded at the No Shame recording studio in Soho, NY, Walking Shapes enlisted producer Gus Oberg (The Strokes, Willie Nelson, and Ryan Adams) to round out the epic, 'Taka Come On.'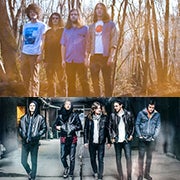 Doors

7:30 PM

Show

8:00 PM

Price

$6 Advance

$8 Day of Show
SHOWINGS
This event has already occurred.